This blog is the second in a three-part series on SaaS IT service management for the mid-market company. In our last blog, we explored the power of ITSM to level the competitive playing field. This time, we'll look at how you can make sure your cloud ITSM platform delivers the best results for your business.
As any IT professional knows, the wrong choice of technology can doom even the most promising initiative. There are many ways an ITSM solution can fall short: excessive complexity, a mismatch between the platform and your IT strategy, an outdated approach to service delivery, a disappointing return on investment—the list goes on. No company can afford to waste time and money on the wrong option, but for mid-markets facing tough competition from both larger and smaller adversaries, it's especially important to get it right.
Here are a few ways to make sure your ITSM platform really delivers for your business.
Make it easy
Perhaps a large enterprise can afford to hire a specialist for every area of IT (though even then, IT talent is in notoriously short supply these days)—but for mid-market companies, every head has to be able to wear at least a few different hats. That puts a premium on ease of use. Automation, built-in best practices, intuitive tools, and easy-to-understand interfaces, dashboards, and reports can all go a long way to help your small IT staff cover all the ground they need to. And when it comes to meeting tough security mandates and staying on top of the latest vulnerabilities, that can mean the difference between safety and calamity.
Think outside the (IT) box
It's great when a solution can solve one problem—but it's even better when it can solve several. IT isn't the only part of the company that can benefit from modernized service delivery. Extending the same platform to additional service departments like HR, Facilities, and Legal can deliver more bang for the buck while bringing your entire business to new levels of productivity and efficiency.
Go beyond routine ITSM
Senior management might talk a good game when it comes to digital transformation (or not), but all too often, they balk at budgeting for it. That means you've got to find other ways to make it happen—like having the same solution you use for routine service management enable digital transformation as well. Make sure your cloud ITSM platform enables the modern, user-centric experiences and rapid service delivery that digital business success is built on.
Don't get stuck
Friction kills agility. Digital business can be dynamic and unpredictable, from seasonal fluctuations in demand to rapid growth and sudden shifts in priorities. If your solution can't provide the scalability and flexibility your business demands—or if you get locked into a rigid pricing structure—you'll end up paying too much, getting too little, or both.
At the end of the day, of course, what IT professionals really care about is having the right tools to do their jobs. In our next blog, we'll look at essential cloud ITSM capabilities that every organization needs today.
Leverage AI technology in ITSM for your mid-market business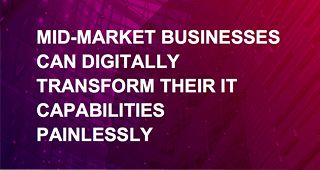 Take the pain out of DX transformation with cognitive technologies
Get the Report ›
These postings are my own and do not necessarily represent BMC's position, strategies, or opinion.
See an error or have a suggestion? Please let us know by emailing blogs@bmc.com.