What wave of data you ask? This tidal wave of data: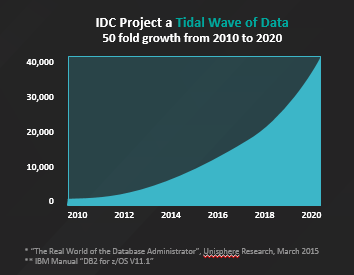 According to IDC (International Data Corporation), the digital universe – the data we create and copy annually – will grow to 44 zettabytes, or 44 trillion gigabytes by 2020. That is 1021 or in other words, the total number of grains of sand on the earth's beaches1.
Most of this growth is in unstructured data, such as photos, videos, policies, XML, and even JCL. This data is crashing into Db2 like a title wave! Why? It is attractive to put that data in an environment that hackers can't get to. IBM uses the new z14 to automatically encrypt data and pervasive encryption enables companies to securely put unstructured and structured data on the mainframe.
IBM was not kind to DBAs when they included LOB management utilities with Db2. There are four utilities you must run to guarantee your LOBs' integrity and organization. These utilities are called IBM CHECK INDEX, CHECK DATA, and CHECK LOB. After running all three utilities you can reorg the LOB as the fourth step. Because LOBs are stored hierarchically, with pointers to pointers to LOBs, these pointers often get damaged. Also, these utilities are to be run sequentially and take a long time. Most companies' DBAs just skip to the last part: the reorg. This workaround means they are at risk of losing those LOBs if pointers get damaged or move.
BMC provides a better solution, which runs on only one utility, runs highly parallel, and does not impact application availability. DBAs will sleep better at night knowing their LOBs are well maintained. A day will come when LOB data is needed, and they will be ready. For example, a financial company used LOBs for storage of important phone recordings for legal and compliance reasons. The company also used a Pegasystems application that had LOBs built in. Beware! SAP and other apps also contain LOBs. Their IBM LOB reorg of 3M rows of LOBs failed after 6 hours. The financial company quickly embraced BMC's automatic LOB management technology and got that reorg down to 45 minutes which included all the integrity checks. This advanced process finally allowed DBAs to do their job knowing their LOBs are intact and available for requests.
1 All the world's beaches combined have been estimated to hold roughly 1021 grains of sand.↩
Annual BMC Mainframe Survey
The 14th Annual BMC Mainframe Survey 2019 reports optimistic trends about the mainframe's role in emerging and established businesses.
Download Now ›
These postings are my own and do not necessarily represent BMC's position, strategies, or opinion.
See an error or have a suggestion? Please let us know by emailing blogs@bmc.com.