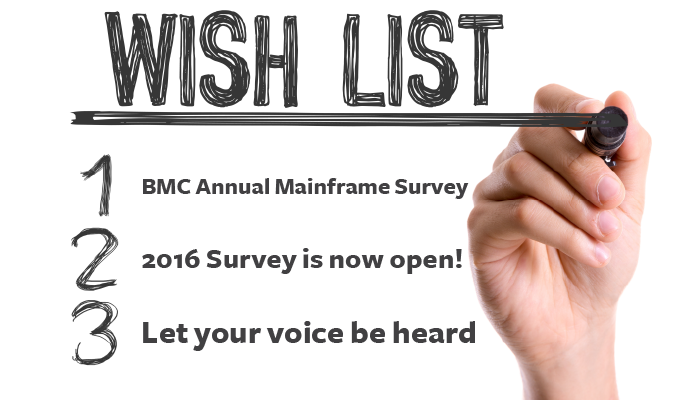 If you had 3 wishes… how would you use them to improve your IBM mainframe environment?
Each year, IBM mainframe customers have the chance to answer this question in the BMC Software Annual Mainframe Survey. BMC was founded on the principle of asking smart customers this question, listening to their answers, and then feeding that information directly into the minds of our R&D lab. In other words, BMC strives to be "market driven" in all that we do, and especially as we innovate on the z Systems® platform.
Got something to say? If you're technical IT staff involved in mainframe management or operations. Or, if you're part of a Mainframe IT team as an executive, manager or technical architect recommending general management or operation practices. This is your chance to to contribute to the conversation, and influence the future of the mainframe.
Your feedback on the Mainframe Survey is invaluable to mainframe users around the globe, and to BMC. For BMC, your survey responses provide critical input to our product roadmaps so that we can optimize them to align with your needs and interests.  For example, for the last 5 years, mainframe customers have indicated that the number one issue they face is developing new ways of reducing overall mainframe costs, and specifically IBM® monthly license charge (MLC) software costs. Based on this feedback, BMC crafted new solutions, now offered as a suite called "R4" to reduce rolling 4-hour average peaks.
You can see that history has proven that the survey channels information directly from you, to our ears, to the keyboards of our brilliant developers, ultimately bringing valuable innovation and solutions that benefit your company.
As I often tell customers in meetings with them, "BMC products can solve complex problems for you, but our business model is pretty simple: you tell us what you need, and our smart people listen."
Please take the time to join your fellow 1,200+ mainframers this year and give us your wish list.
Annual BMC Mainframe Survey
The 14th Annual BMC Mainframe Survey 2019 reports optimistic trends about the mainframe's role in emerging and established businesses.
Download Now ›
These postings are my own and do not necessarily represent BMC's position, strategies, or opinion.
See an error or have a suggestion? Please let us know by emailing blogs@bmc.com.