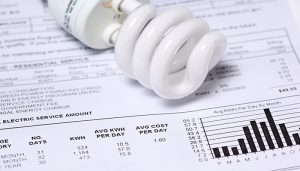 When I got my electricity bill in the mail yesterday, I was shocked to see the total. $500?? How is this possible? I had made a conscious effort to run my house efficiently all month. I turn off the lights when I leave a room, I have energy efficient appliances, I installed UV deflecting windows and my AC is brand new.
Where did I go wrong?
As I looked closely at my bill for more information, all I could see was the peak Kwh usage and the total dollar sum. There was no insight into the cost driving culprits or suggestions as to how I could improve their efficiency. Like last month, I will pay the bill and play a game of trial and error in the hope of improvement next month.
My electricity bill is a lot like the Sub-Capacity Reporting Tool (SCRT) report used by IBM to charge their mainframe customers each month for CPU usage on sub capacity pricing. It is a basic report of the peak 4 Hour Rolling Average (R4HA) usage and total dollar sum for the month of each Monthly License Chargeable (MLC) product. Like my electricity bill, it also does not give you a breakdown of what the peak cost drivers are or what specifically you can do to reduce them.
Imagine if there were a tool that could turn this raw data into intelligent reporting and what-If suggestions on how you could significantly drop your cost for next month, and where specifically you need to make these changes? For example, what if my electricity bill could tell me that my primary cost driver was the old refrigerator in the garage that rattles all night and uses 2x the energy it should and that if I simply replaced my refrigerator with a newer one, my cost would decrease by 20% per month? Twenty percent off of my $500 electricity bill is small change, however, 20% off of a $200,000 or $1,000,000 mainframe usage bill is not.
There are some fancy reporting options provided by innovative electricity companies, but the majority are just like mine – minimal. In the mainframe world, there is only one company innovating upon the ancient SCRT reporting tool and giving mainframe users real transparency.
BMC Software has developed a solution – Cost Analyzer, which has been helping international digital enterprises take control of their IBM MLC costs. Cost Analyzer can transform your raw SCRT report into actionable intelligence that will allow you to achieve hard dollar savings on your largest cost drivers, with savings as high as 30%, starting next month.
Cost Analyzer provides job-level granularity so that you don't miss a single MLC contributor and have the best possible chance of optimizing your z Systems mainframe expenses.
Next month, when you receive your SCRT report from IBM, think about what insight an intelligent product like Cost Analyzer might provide you and your digital business. To learn more about Cost Analyzer and the other MLC cost savings solutions, see the BMC Mainframe MLC Cost Management solution web page.