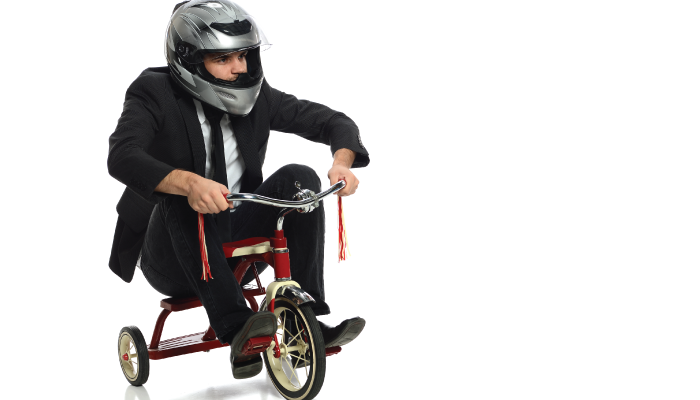 Although all bikes serve the same basic function, are they all the same?
Several years ago I was challenged to compete in my first triathlon, consisting of a swim, bike, and run. I accepted the challenge and began training. Months later, race day arrived. I completed the swim with ease, hopped on my bike and began the 16 mile trek. A couple of miles into the ride, I began to notice I was being passed by nearly everyone, men and women of all ages. It was at that moment, I realized there is a distinct difference between the mountain bike I was using and the road bike everyone else was using.
Similarly, I'd propose there is a distinct difference, and a big one, between BMC's MainView and all other mainframe monitors:
Total Cost of Ownership (TCO)
Given that mainframe monitors run 24×7, they contribute overhead to peak times, therefore driving up the cost of your MLC bill. BMC MainView contributes, on average, 50% less overhead to the peak MSU limit than monitors such as ASG TMON, CA Sysview, and IBM Omegamon. Three contributing factors that make BMC's MainView a less expensive option when it comes to TCO include:
zIIP Exploitation
Single System Image (SSI)
Shared Data Collector
First, the overhead savings is largely due to MainView's ability to shift workload from General Purpose (GP) engines to those underutilized specialty processors, zIIPS and zAPPS. Although, some competitors tout zIIP exploitation, BMC continues to invest in the ability to offload the most resource heavy work to zIIPS. Most recently, MainView for IP became zIIP eligible.
Secondly, BMC MainView was built with a Single System Image (SSI), meaning your IT staff will no longer have to hop in and out of screens to diagnose and resolve issues. Instead, they will be able to view the entire mainframe environment from one pane of glass, ultimately reducing Mean-Time-To-Repair (MTTR).
Finally, monitors such as ASG TMON, CA Sysview and IBM Omegamon, require another monitor from IBM, known as RMF. These disparate monitors do not share data and contribute unnecessary overhead to your peak processing time. On the contrary, BMC MainView and BMC's CMF Monitor offer a single data collector, which means no more paying the taxes twice.
Now that we have established that all bikes and mainframe monitors are not the same, I'd challenge you to take BMC's MainView for a test ride. If your organization is looking to gain the ultimate competitive advantage, why not reduce costs, improve availability (five nines), and reduce MTTR, by upgrading to BMC MainView?
Find out how MainView makes system management easy with proactive monitoring, automated problem solving, and storage solutions: Mainframe System Management with MainView
To learn more about why organizations are migrating to BMC MainView at a rate of once a week, contact your BMC representative to arrange a free 30 day trial.
Annual BMC Mainframe Survey
The 14th Annual BMC Mainframe Survey 2019 reports optimistic trends about the mainframe's role in emerging and established businesses.
Download Now ›
These postings are my own and do not necessarily represent BMC's position, strategies, or opinion.
See an error or have a suggestion? Please let us know by emailing blogs@bmc.com.