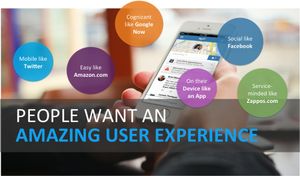 Recently, I had the pleasure of attending the CIO 100 Symposium and addressing attendees. The annual event, produced by CIO Magazine, brings together hundreds of CIOs and senior IT executives from the world's top companies. As you might expect, much of the discussion focused on mobile, cloud, data, consumerization and its impact on IT and the CIO.
The event reinforced for me how much the way people interact with technology has fundamentally changed over the last five years. Today, people want more than a slick user interface; they want an amazing user experience. They want the "experience" part of "UX"  – integration of services, content, and knowledge that puts power in their hands anywhere, any time – and through any device or interaction medium. They want a digital experience.
At BMC, delivering on these needs is important, especially because IT is the fabric that enables our customers to keep their customers, employees and partners satisfied and engaged.
But, how does the CIO drive the experience change that their organization must deliver to their customers? BMC was at this juncture in 2012. We stepped back and thought, "how do we pair the depth of our IT technology with a deep understanding of how our users want to work?"  What we learned during this journey is universally relevant.
I shared with conference attendees BMC's thought process for transforming the IT experience at the user level, and I've outlined it below
Conduct persona-based research
Take the time to get to know the IT business user through surveys, interviews and personal visits to their sites. Determine the skills, goals, tools and data that are important to each role (i.e., persona) within the group and use this information to drive a new type of user experience. As we looked at the customers of IT, we discovered new services to offer and to integrate into our products.
Mobilize products and services
According to Gartner, 38 percent of organizations expect to stop providing devices to employees due to the rise in BYOD adoption. This means that users want products that are accessible on any device at anytime, anywhere.
Simplify the process
Business professionals want IT services delivered in ways that are simple, easy and seamless. Users want to decrease the time spent communicating issues to and obtaining solutions from the IT department. Simply put, users want IT "that just works."
Social Integration
Emulate social networks like Facebook and Twitter to keep users engaged, collaborating and to create a useful dialog. Seventy percent of BMC customers want an employee self-service feature. Incorporate a social network that allows users to contribute to and follow discussions, to have integrated activity streams, to crowdsource information, to be able to indicate interest and "follow" IT assets. This overlay social network will ultimately help to reduce costs, increase productivity and engage employees as they learn to help themselves.
Create solutions that are context aware
Like Siri and Google, people want a product that can put context around queries and comments, and help the user find answers quickly
Create smart products for smart offices
The smart office should be modern, dynamic and collaborative. By association, so should the products and services in the office. By adding location-based features like GPS, floor maps and points of interest, offices become a collaborative, IT-supported environment.
As digital services continue to grow, these key design strategies will continue to evolve and take shape in new, dynamic and innovative ways. But, in the end, user experience innovation at its core is all about putting the power and information in the hands of the customer at any time, anywhere on any device.
If you are curious as to the result of BMC's user experience design process or IT consumerization, I invite you to take a look at BMC MyIT – the IT user experienced reimagined.
A primer on digital transformation leadership strategy
Learn the fundamentals of innovative IT leadership with practical steps so that you can start leading digital transformation within your company.
Download Now ›
These postings are my own and do not necessarily represent BMC's position, strategies, or opinion.
See an error or have a suggestion? Please let us know by emailing blogs@bmc.com.