Recently I had the opportunity to attend SHARE Phoenix and present on "MLC Baselining: 3 Tips To Getting the Most Out of New IBM Pricing Models". During SHARE and after the presentation I spoke with attendees on the new IBM pricing models. Immediately it became clear that there is still a lot of confusion on how best to utilize the new pricing models and when to stick with Monthly License Charge (MLC).
I've written a few blogs about Container Pricing in recent months and want to reiterate that mainframe users with growing workloads can benefit from new pricing models. The key to your success lies in:
Understanding how the pricing is defined and how the price is determined
Recognizing the impact to your other workloads
Actively optimizing and reducing your MLC costs before converting
With Fixed MSU Amount Container Pricing Solutions, it is critical that you know that you no longer have options to reduce your base cost after you convert to Container Pricing. Reducing your MLC needs to be done today, and then if you convert to a different pricing model you can lock in those savings for many years to come. At SHARE, IBM presenters Andrew Sica and Andreas Henicke gave great presentations on how Container Pricing is setup both in the SCRT and in IBM Workload Management (WLM). If you are a SHARE member you will want to download their presentations.
Another new pricing model, "New Application Solution (SCLC)" is particularly exciting. It focuses on supporting customers moving new workloads to the mainframe. With this new pricing model, IBM provides a "cloud like" MLC MSU consumption billing solution for new workloads. This lets you migrate new workloads and applications to your mainframe and only be billed for the MSUs consumed by the new workloads. You no longer need to guess a fixed amount of MSUs the application will consume, as you do with the standard New Application Solution Container Pricing. As the mainframe is one of the best server platforms available, I fully support all efforts to reduce the cost of moving work back to the mainframe.
For organizations with growing mainframe demands, the new pricing models save software license charges on new workloads and on growth beyond your current MIPS/MSU consumption. On the other hand, if your MIPS/MSU consumption year over year is flat or reducing, then you are better off staying on the MLC model. The MLC pricing model has the most flexibility for you to optimize your workload and flatten your peak to reduce your current MLC monthly bill. With MLC you have the workload options to: Eliminate It, Tune It, Cap It, or Move It to produce significant savings (up to 30%) on your MLC bill. In a Lean IT world, we really can do more with less cost and that is why I still like the MLC pricing model.
I am sure the next SHARE in Pittsburgh August 4-9, 2019 will be equally as valuable to the attendees as the conference in Phoenix. If you plan to be in Pittsburgh, please let me know. SHARE socials are a great place to meet and discuss mainframe trends like pricing. I learned a lot in Phoenix and can say that I support moving workload back to the mainframe, and I still like MLC.
Learn more about BMC Mainframe Cost Optimization Solutions at www.bmc.com/mlc
Five Levers for Lowering Mainframe Monthly License Charge Costs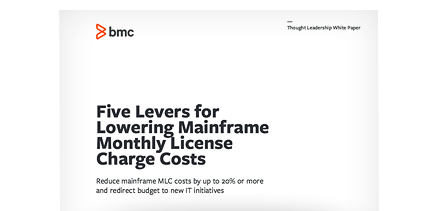 Learn five ways to lower mainframe MLC costs without sacrificing service delivery so you can redirect budget to IT innovation.
Download Now ›
These postings are my own and do not necessarily represent BMC's position, strategies, or opinion.
See an error or have a suggestion? Please let us know by emailing blogs@bmc.com.