As companies offer more digital services, billing and scheduling processes can become increasingly complex, requiring more effort than expected to maintain. It doesn't have to be this way. In fact, a large telecommunications company that moved from a homegrown system to workload automation with BMC created a more positive customer experience, reduced costs for billing processes, and helped IT staff become more productive.
But don't just take our word for it; details about how this telecommunications company used Control-M to save $2.8 million over three years are available in a recently published case study from Nucleus Research.
Case Study Highlights
Using Control-M, the telecommunications company was able to achieve several key benefits, including:
Increased productivity – automation of billing processes dramatically reduced labor costs.
Automated truck dispatches to customers at 16 different sites.
Increased customer satisfaction by removing process barriers related to billing.
The project team lead at the telecommunication company stated that, "With BMC we can integrate anything. We can do just about anything we are asked to [by our customers]."
Consider how these types of benefits might apply to your organization.
2019 EMA Radar for Workload Automation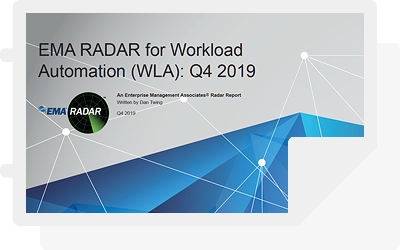 In the Radar Report for WLA, EMA determines which vendors have kept pace with fast-changing IT and business requirements. Read the report to learn why Control-M has earned the top spot for the 5th year in a row.
Download the report ›
These postings are my own and do not necessarily represent BMC's position, strategies, or opinion.
See an error or have a suggestion? Please let us know by emailing blogs@bmc.com.