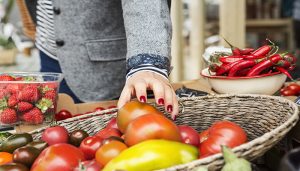 If you're craving a made-from-scratch meal featuring fresh, high-quality ingredients, one of Snap Kitchen's 50 stores probably has just what you're looking for. Each day we stock our shelves with a selection of tasty, healthy breakfasts, lunches, dinners, snacks, and beverages. If your dietary needs include gluten-free, dairy-free, vegetarian, vegan, or Paleo foods, you'll find plenty of entrees that fit the bill. If you're following a specific weight-loss or nutritional reset program like Weight Watchers or Whole30, Snap Kitchen offers a variety of choices that make it easy to stay on your plan.
Although most people don't think about high-tech when they're shopping at Snap Kitchen, technology plays a crucial role in enabling our employees to have exactly the right ingredients on hand, prepare thousands of menu items daily, and keep stores stocked with the right mix of products. It's the job of IT to provide the information systems that track inventory, capture point-of-sale data, generate management reports, and generally run the business day to day.
Keeping critical systems running is a big job for our small IT staff. There are ten of us. We get the job done by putting together the right combination of cloud-based systems—for example, our point-of-sale (POS) system from Task Retail Technology and Microsoft Azure virtual infrastructure. So when we wanted to add monitoring capabilities to ensure high availability of critical servers, it was clear that a cloud-based solution was the way to go.
We were looking for a basic monitoring agent to monitor CPU, disk storage, and other resources and notify us of any issues. We also wanted a customizable, real-time view into what's happening in our environment. We evaluated the top software-as-a-service (SaaS) solutions and selected TrueSight Pulse because of its functionality, simplicity, and affordability.
Monitoring What Matters to the Business
Reporting is particularly important to running our business successfully. We have approximately a dozen servers that we update daily with sales data from the stores to support the generation of management reports. Our managers run queries on the data throughout the day to understand what menu items are selling and where. That visibility drives decisions around how many of each menu item to prepare and what quantities of each item to ship to each store.
Without these reports, the company might produce too many of some items—products that would be pulled from the shelves because they didn't sell before the expiration date—and too few of other items—which means customers may not find their favorite items on the shelf. At one point, our surplus numbers were higher than we would have liked, which affected profitability. Our database engineers brought the surplus under control by developing sophisticated formulas for analyzing sales data and identifying trends with respect to which items are selling well and which are not—and where they sell or don't. As a result, management can more accurately forecast the right mix of menu items each kitchen should make and the right mix of items to ship to each store.
Our SQL servers are critical resources that we must monitor to avoid any reporting-related disruptions. The POS system run by Task is also critical. Any store outage means a loss in sales and sales data. Trying to check out customers without the POS system would be cumbersome, and we wouldn't be able to capture the critical sales metrics that provide visibility into each store's inventory. That kind of lapse could affect the kitchens and stores for several days.
Pulse keeps tabs on our servers and sends us notifications when issues are starting to arise. Ensuring that we have adequate disk space available on our SQL servers is particularly important. Before Pulse, we often ran out of space. Now Pulse monitors storage capacity and alerts our help desk via email when the capacity reaches specific thresholds. As a result, we're avoiding conditions that might interfere with reporting.
Pulse also played a role in pinpointing a disk space problem with our POS server. The nightly backup process was creating large files that consumed a gigantic amount of disk space. We were able to give the vendor precise information on when it was happening, so steps could be put in place to ensure that adequate space was available during that time.
Going Mobile
Monitoring has become more crucial since rolling out our new mobile app.  Now customers are able to place orders from their mobile phones and the orders will be ready and waiting for them when they stop at the store.
To meet customer needs, that app must have access to live inventory for each store, and we have to feed orders to the stores immediately so they can pull the right items and package them for pickup. That means our servers must be running reliably seven days a week, even on holidays—not only when stores are open but any time a customer might place an order.
On the Horizon
Monitoring has become a 24/7/365 job at Snap Kitchen. The beauty of TrueSight Pulse is that it constantly monitors the environment so we don't have to. It enables us to keep tabs on the infrastructure with a very small IT staff.
In addition, the solution positions us to support our corporate goals for growth. Over the next year Snap Kitchen plans to grow rapidly. That growth will require increasing the size of our infrastructure. That means ramping up production and distribution efforts, which will also require growth in the infrastructure. With TrueSight Pulse, we can monitor a growing IT environment without adding a lot of staff to get the job done.
Get practical guidance for AIOps
IT operations teams have to work faster and smarter than ever to meet the demands of digital transformation. This e-book offers a practical, real-world look at ways artificial intelligence can improve the speed and efficiency of
ITOM
.
Download E-Book ›
These postings are my own and do not necessarily represent BMC's position, strategies, or opinion.
See an error or have a suggestion? Please let us know by emailing blogs@bmc.com.