Business agility takes many forms. Manufacturers now divert supply chain items at the last minute to maximize factory output. Finance departments track and adjust spend in near real time. Marketing organizations launch competitive promotions within days of their conception. These are just a few examples of how crucial agility has become for success – and they all have one thing in common. They depend on IT to do the heavy lifting.
As businesses continue to adapt to a world with more devices, more applications and orders of magnitude more data, IT needs to adapt to the reality of constant and rapid change. This means being open to operational innovation and developing the ability to quickly re-tune the underlying IT infrastructure to meet new business needs.
The Unintended Consequences of Change
Unfortunately, change often brings an unintended consequence: downtime. In fact, according to The Visible Ops Handbook on ITIL, 80 percent of data center outages are the result of intentional changes made by administrators or developers. This downtime has a serious financial impact in terms of lost sales, lost productivity and even damage to a brand's reputation, all of which ultimately affect the bottom line. These losses are the "tax" most companies pay for rapid change.
The root of the problem isn't a mystery. The infrastructure that supports IT's work has become so complex that understanding the relationships and dependencies among the so-called configuration items in a data center (routers, servers, storage units, and other such assets) is extremely difficult.* When developers make changes to systems they don't fully understand, it's hardly a surprise that those systems often crash.
Reliable Information to Prevent Crashes
Configuration Management Databases (CMDBs) have been developed that provide accurate, reliable information on all the assets (configuration items) in a data center, as well as dependency maps that show their interrelationships. This information, which is not available in many contemporary data centers, enables IT personnel to anticipate the results of changes, avoid most crashes, and resolve them efficiently if they do occur.
For some readers, the idea that a well-run, successful business would literally not know what IT assets it owns nor how they're interconnected may seem hard to understand. Why doesn't every business implement a CMDB, particularly when the cost of downtime is so very high?
The primary reason is that most companies haven't done a cost/benefit analysis at a high enough level to show the true, enterprise-wide value of a CMDB. Justifying a CMDB on the basis of increased problem resolution productivity within the IT organization alone is a hard sell. A broader analysis that takes into account the financial costs to other departments (lost sales, etc.) will show that a CMDB makes excellent business sense and can deliver a more than acceptable ROI.
Another barrier to adoption for CMDBs is the amount of time and money needed both for initial implementation and long-term maintenance. CIOs and their direct reports are reluctant to commit what they perceive as a huge number of hours to CMDB when they have so many other pressing problems.
There are two responses to objections along these lines. The first is that IT needs to think top-down rather than bottom-up when it comes to CMDB. This means abandoning the idea that every asset in the entire data center needs to be accounted for, and instead focusing on the applications, functions or processes that bring the most value to the business as a whole. For a retail operation, this might mean focusing on e-commerce functions or CRM, for example. Enabling change without unwanted downtime in the most important 20 percent of an enterprise's applications as seen from a business perspective is a reasonable goal that will have a dramatic impact.
The second response relates to automated discovery like BMC Helix Discovery, which can populate a CMDB without endless hours of manual effort, not to mention difficulties scrubbing and normalizing data from multiple sources. In fact, there are anecdotal indications that automated discovery is much more accurate than a manual approach. In one case, a careful data center walk-through discovered five thousand items. When automated discovery was applied to the same data center, the count reached ten thousand.
Winning the War Against Complexity
Data center administrators are under pressure to manage thousands upon thousands of individual assets, keep them all up and running, and quickly isolate and fix problems when they occur. This simply can't be done effectively by yesterday's approaches, which depend far too much on tribal knowledge. CMDBs have moved from the "nice to have" to "must have" category for companies that want to keep up with change.
To learn more about automated discovery, click here.
 * The terms "assets" and "configuration items" are often used interchangeably, although strictly speaking they're not identical. Assets should be used in a financial context, while configuration items is appropriate in an operational context.
For more on operating with more agility and control, read Multimodal IT: Aligning Business Needs and Innovation.
Gartner Magic Quadrant for ITSM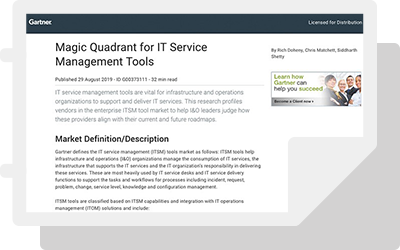 For the sixth year in a row, BMC is a recognized leader in IT Service Management Tools. Download the free report to see why!
Download Now ›
See an error or have a suggestion? Please let us know by emailing blogs@bmc.com.