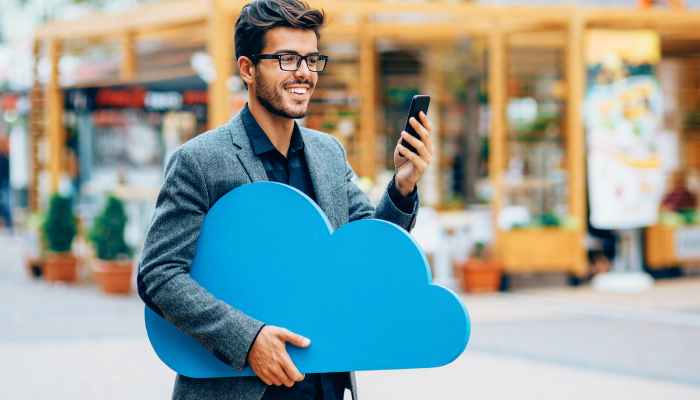 Digital services are rushing like a river into all corners of today's enterprises, dramatically changing our customers' worlds. The upstream feeders of the river are becoming more numerous, varied, and dispersed. The number and variety of digital service sources available from both in-house data centers and third parties seem almost limitless — and are most definitely overwhelming. On the downstream side, digital services must flow to an increasing number of service consumers, including people, higher-level digital services, and digitally controlled devices on the Internet of Things (IoT).
Our customers have to tap into these sources, collect the optimum combination of services needed by the business, and deliver them to service consumers in a reliable, secure, and high-performance manner. It's a mind-boggling challenge when you consider the number and variety of service sources and consumers. Adding to the challenge is the fact that the upstream and downstream landscapes are continually evolving.
Driven by the challenge, customers are increasing their demands on British Telecom (BT). We're meeting their demands with a major transformation in both service delivery and service assurance. The transformation is guided by our cloud-of-clouds vision. Our approach gives us unprecedented agility in delivering the optimum set of digital services in the optimum way to meet the demands of each customer.
Transforming Digital Service Delivery
As Figure 1 illustrates, our cloud-of-clouds vision in service delivery is to provide customers with an end-to-end solution for delivering digital services to their service consumers. It enables access to a full range of upstream sources, including customer-owned data centers and services, BT data centers and services, and third-party data centers and services. On the downstream side, it provides a reliable, secure, and high-performance vehicle for delivering services to consumers. The best news is, with our Compute Management System (CMS), our customers will be able to manage their entire digital service portfolios as one virtual global data center, all from a single pane of glass.
Of course, meeting the combined service delivery demands of a large and diverse customer base is a formidable undertaking. Our customers have widely varying demands in the types of service, the level of service, and the way they want to do business with us. Some customers want us to handle everything. Others want to do everything themselves through an interface directly into our systems and services that they manage in conjunction with us. Our goal is to offer wide flexibility in all areas to accommodate the demands.
The foundation of the cloud-of-clouds approach is already in place. It's the British Telecom global network with more than 4,700 points of presence (POPs) around the world and a range of access methods, including Ethernet in 56 countries, Internet in 184 countries, and satellite available globally. We are now working outward from our network capabilities all the way through to the enterprise IT capabilities, applications, services, and everything in between to provide end-to-end solutions for our customers.
Transforming Digital Service Assurance
Our vision goes well beyond service delivery to encompass service assurance. Although we may talk separately about service delivery and service assurance, we view them as integrated components of a single, end-to-end journey. An integral part of service assurance is customer service. We have always considered customer service to be our major differentiator and we are recognized in our industry sector as being a leader in service. We're working to maintain, enhance, and build upon that reputation.
Our vision is to support customer ecosystems in such a way that we cover the full spectrum of the services they have, whether those services are provided by the customers' data centers, by British Telecom, or by third parties. To realize this vision, must transform our service approach by not only enhancing our legacy capability but also changing the service paradigm itself. We're supporting that new paradigm with a modern service desk that will enable our agents to be more effective across all aspects of IT service management including incident, problem, and change management, using the BMC IT Service Management Suite.
We want to make sure that it's easy for customers to do business with us. Underpinning that position is ensuring that we can build and manage deeper customer relationships. Third-party cloud application services are a growing part of the solutions we're delivering, and that drives the need for an increased level of interaction with our customers and at a far more sophisticated level.
To achieve this interaction, we're increasing our use of analytics and leveraging the information we already capture to better understand our customers and how they're using our services. Through this analysis, we can be more proactive in offering our customers the right solutions and dynamically tailoring the solutions they are using for optimum fit. That fosters stickier relationships because customers see that we understand them, can support them effectively, and can demonstrate our value to them.
Looking Forward
We have already put in place a rich service offering that permits us to meet the widely diverse and changing demands of our customers. But along with that richness comes complexity. One of our major challenges is to ensure that this complexity doesn't slow us down in responding to customer requests for new or changed services. Ratcheting up the level of automation will be essential to masking and dealing with the increasing complexity. Automation will help us continually accelerate the fulfillment process and empower our customers to take more control of their services. Our ultimate goal is to accelerate to a near real-time experience for our customers.
Gartner Magic Quadrant for ITSM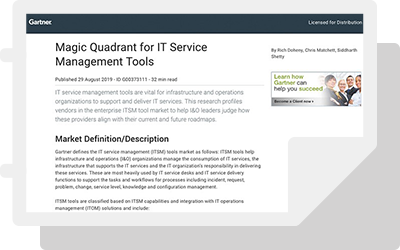 For the sixth year in a row, BMC is a recognized leader in IT Service Management Tools. Download the free report to see why!
Download Now ›
These postings are my own and do not necessarily represent BMC's position, strategies, or opinion.
See an error or have a suggestion? Please let us know by emailing blogs@bmc.com.