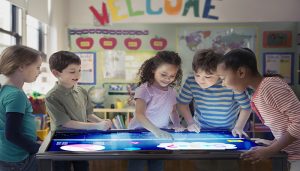 Our mission at the Gauteng Department of Education (GDE) is to ensure that quality learning and teaching take place in the classroom every day. While the statement itself is a simple one, delivering on the promise requires radical transformation in our schools as we move from traditional educational approaches to digital learning.
Digital learning technologies will enhance the educational experience so that our students acquire the values, knowledge, skills, and qualifications they need to succeed in adult life. But new hardware, software, networking devices, and Internet connections are only part of the picture. To ensure a successful digital transformation, we need a well thought-out support strategy that minimizes service disruptions to teachers and students and provides the scalability to ultimately support nearly two million students across Gauteng Province's 2,900 schools.
To make digital learning a reality, GDE's Information and Communications Technology (ICT) directorate has partnered with BMC Software and CHM Vuwani Computer Solutions, a BMC partner, to define and implement a long-term digital enterprise management strategy. This year we implemented BMC Software's Remedy 9.1 to address our IT service management (ITSM) needs.
Where We Are Now with Digital Learning
Delivering digital learning to two million students—from kindergarten through high school—doesn't happen overnight. We are moving to the digital learning model over a ten-year period. We're starting with 600 high schools within the province, each of which has an average 400 students. Our progress to date is exciting:
We've already equipped more than 200,000 high school students with tablets that connect them to online content and learning tools which can be accessed from anywhere.
High school teachers now have an extraordinary array of educational resources at their fingertips using laptop computers. They can also interact electronically with students—both in the classroom and in remote locations—to promote learning, track progress, and develop strategies for ensuring the progress of individual students.
Many classrooms are already equipped with interactive white boards that connect to laptops, enabling teachers to enhance the presentation of learning materials and make information presented on those devices readily available to students all over the province.
Why We Needed Digital Enterprise Management
Our service management organization includes a central service desk at the head office that supports 21 regional offices. Regional field technicians support the schools in their respective regions, going onsite to resolve issues, fulfill requests, and to provide functional training.
When GDE's ICT began deploying tablets, laptops, and interactive white boards in our high schools, we quickly realized that our service management processes and tools were not up to the job of supporting digital learning. Incidents, service requests, and requests for assistance came into our central service desk where they were logged and, as necessary, dispatched to the regional offices. At the regional level, a manager would manually assign each ticket to a field technician who would go to the school to take action. The technician then typically had to return to the regional office to close the ticket and pick up the next one.
This approach didn't make the best use of the managers' or technicians' time. Moreover, resolution times were not acceptable for supporting digital learning. Typical mean time to resolution was one to three days. If a technician discovered that an issue needed to be escalated to a third-party provider, such as an interactive white board vendor or a printer repair facility, there would be additional delays.
With new equipment rolling out every day, we needed to move quickly to streamline and automate the many manual tasks. In particular, we needed capabilities such as auto-assignment and the ability to access tickets via mobile devices. We also needed tight integration with a monitoring and event management system so that application and infrastructure issues detected via monitoring would automatically trigger the creation of tickets in the service desk solution.
Digital Enterprise Management in Action
We are addressing our need for digital enterprise management with the help of CHM Vuwani and BMC Software. We rolled out Remedy 9.1 with Smart IT in just three months, going live on April 1, 2016 and fully replacing our previous CA help desk tool. CHM Vuwani consultants provided planning, implementation, and training services to accelerate the rollout and prepare our technical teams to fully leverage Remedy capabilities.
We're tracking 2,700-plus tickets a month with Remedy. Our technicians are enthusiastically adopting Smart IT, which speeds ticket creation by automatically presenting relevant information such as the user profile, historical data on the user's previous issues and requests, and relevant resources to speed troubleshooting. Auto-assignment expedites the hand-off of tickets to the appropriate technician and mobility makes assignments accessible from a smartphone, tablet, or computer. That means technicians can be productive with any device at any location. Technicians are telling us they feel better equipped to provide quality support for their schools because it's so easy to log into Remedy using Smart IT and pick up assignments, draw on resources that speed troubleshooting, escalate tickets as needed, and close tickets when the job is done.
We saw significant improvements in just the first two months:
Instead of a response time of two to three days for incidents and requests, we're able to respond in one day or less.
Although we're rolling out tablets at a rapid rate, we've been able to improve service levels without increasing the size of our support staff.
We are capturing valuable data that gives us visibility into our performance so we can find areas for improvement.
We're leveraging the data in many ways—for example, identifying recurring problems with particular product models and manufacturers, and assisting procurement in understanding which products are more reliable and less costly to operate.
With so much information at our fingertips, responding to audit inquiries is effortless. It previously took about five days to create audit reports. We can now produce them in less than two hours.
As we continue to expand our use of Remedy, we expect to improve service levels even further and to absorb the rapidly growing number of users and devices without a corresponding increase in support staff.
Next Steps
We've made major strides toward our digital enterprise management objectives, but we have much left to do. With Remedy incident and request management in place, we're now implementing the change and asset management modules. As we mature our ITSM processes, we'll focus on increasing the level of automation to replace manual efforts and drive efficiencies. We're beginning to use MyIT to provide self-service access to IT services. We're also investigating the possibility of using this simple and modern interface to give students and teachers easier access to content and educational tools in support of mobile elearning.
Remedy enables us to keep elearning systems and student, teacher, and classroom devices operating smoothly. What's more, it aligns perfectly with our strategy for creating exceptional educational opportunities for the children of Gauteng Province.
Gartner Magic Quadrant for ITSM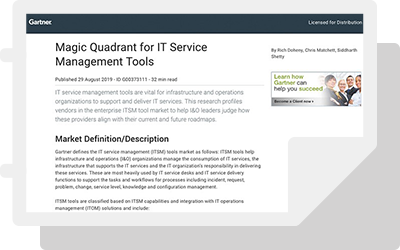 For the sixth year in a row, BMC is a recognized leader in IT Service Management Tools. Download the free report to see why!
Download Now ›
These postings are my own and do not necessarily represent BMC's position, strategies, or opinion.
See an error or have a suggestion? Please let us know by emailing blogs@bmc.com.