When most people think of Continental, they think of tires. Our company was founded in 1871 as a rubber manufacturer and tires have been an important part of our business since that time. Today, however, our business encompasses many other automotive and transportation-related products, including brake systems, interior electronics, automotive safety, powertrain and chassis components, and tachographs.
With 2016 sales of €40.5 billion, Continental is one of the world's leading automotive suppliers. But we're not standing still. Senior management has set aggressive targets for revenue growth over the next decade. Meeting those targets requires a shift from our traditional product orientation to a services orientation. We call this shift digital transformation, and to achieve it, we must become a digital enterprise 3.0.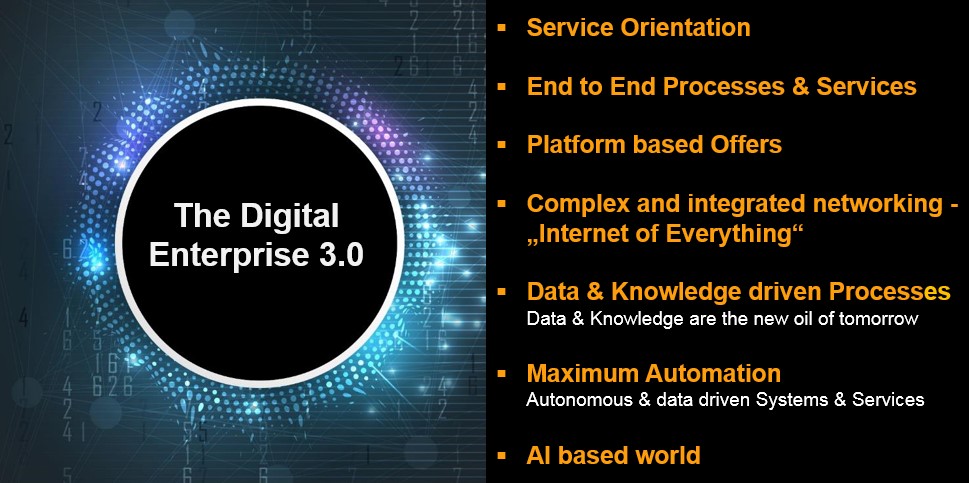 Crucial building blocks of the Digital Enterprise 3.0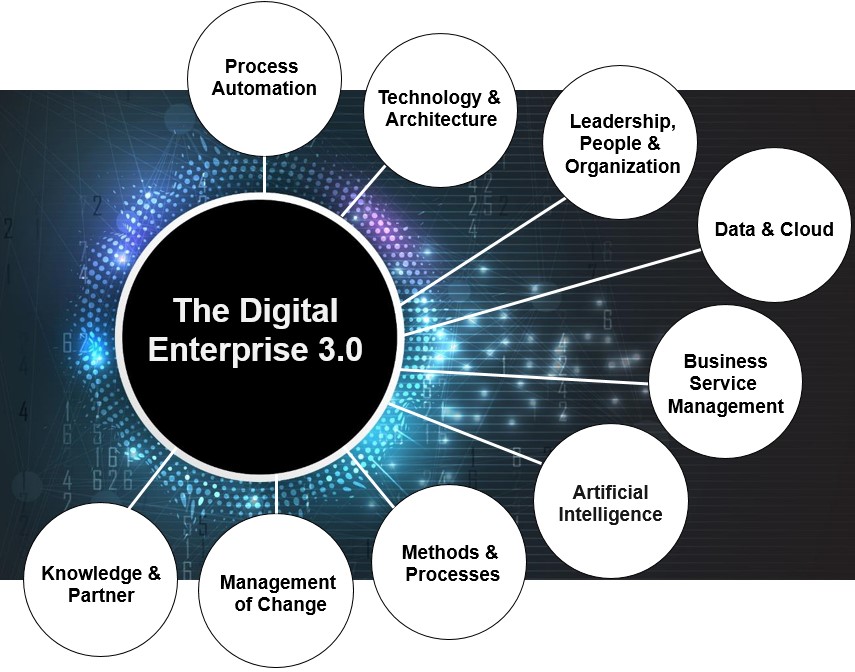 Working digital vs. being digital
To become a truly digital enterprise 3.0 means not only working digital but also being digital.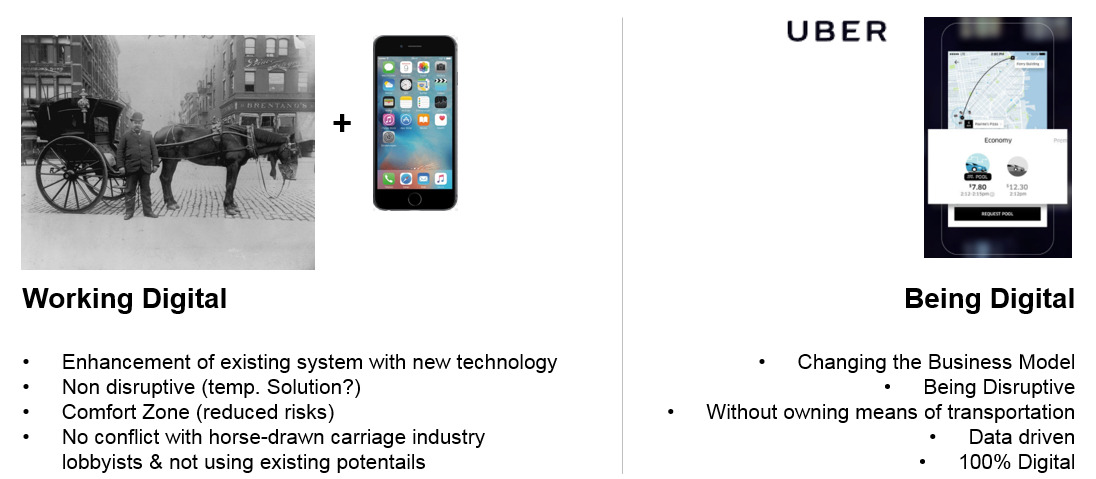 If you operate a horse-drawn carriage business and you give your drivers smartphones, they are now working digital. But the business is still based on the traditional model. Being digital means leveraging digital technologies to dramatically change the business model itself. Continental is addressing both types of digitalization because working digital is a good starting point to be familiar with the new technologies.
We're excited about the progress we're making on our digital journey. We're amassing data from all areas of the company into a Continental Data Lake that we are leveraging to create data-based services (Mobility Services) for external entities.
Our Automotive division has 14,000 software developers, making Continental one of the biggest software development companies in Germany. We're applying our formidable development team to create innovative solutions that normalize and analyze data and transform it into actionable information that we can market as services to individuals and businesses. Examples include:
Providing keyless entries to cars with biometric recognition, for example, for rental car services
Enabling fleet managers to control their vehicles and using predictive analytics to proactively schedule maintenance and repairs to keep vehicles running reliably and efficiently.
Data driven, AI powered
Our goal is to become a data-driven and AI-powered enterprise by 2025. Achieving that goal hinges on our ability to fully exploit the power of digital technologies such as mobility services, multi-cloud services, and artificial intelligence. Our first step is to become an AI-ready enterprise.
Mobile access will make our employees more productive because they can work from anywhere, interacting with IT easily to report issues, ask questions, and request items and services. It will give our internal and external customers the flexibility to order services at any time, from any location, and from any device.
Cloud services combined with service management capabilities (for example, service broker) are providing the flexibility and scalable power we need. Our Continental.Cloud foundation is the central place for setting up new services in Amazon AWS. It includes self-service tools and analytics functionality enabling data analysts to set up their own views. We are integrating Conti.Cloud with the data lake and linking it with our mobility services.
Robotics, automation, and machine learning will become increasingly important as we move toward our goal of being an AI-powered enterprise. A recent proof of concept clearly demonstrated that, in automating complex dynamic processes, cognitive automation is vastly superior to traditional runbook automation or RPA (robotic process automation). We're already pursuing cognitive automation and we are planning to offer a shared service for intelligent process automation.
Moreover, we're implementing chatbot technology supported by cognitive services in our service desk to guide employees in the use of Office 365 functionality.
Service management for the digital enterprise
The journey toward servitization and digitalization has major implications for the IT organization. We are, on the one hand, a partner of the business and, on the other hand, IT will become part of our services and products. This leads to new forms of collaboration, organization, and leadership models. For example, virtual intelligent networks will cooperate on a global basis without hurdles and ensure synergy for existing knowledge.
The IT organization will be set up like a business with its own enterprise resource planning (ERP) system based on services, data, and knowledge and powered by AI.
To achieve this, we need an intelligent, data-driven service management engine. Therefore, we are currently establishing current service management technology to
Provide a central platform for everything in the service management context, including incidents, requests, FAQs, demands, and information
Establish an end-to-end perspective of services (service lifecycle)
Streamline and bring intelligence to service management processes such as configuration, incident, problem, change, and service catalogue management
Monitor critical systems to detect issues, take corrective action, notify the right people, and to establish predictive maintenance
Automate service request and fulfillment processes so employees, partners, and customers can easily request and take delivery of services at digital speeds
We are establishing this technology for internal IT service management on the one hand, and for external enterprise service management for our mobile services on the other.
Due to the critical importance of our digital services business, we have strict requirements for our integrated service management system:
A single, integrated platform across all service management disciplines
Comprehensive out-of-the-box functionality that requires no customization
An engaging user experience that provides a one-stop, self-service shopping mall for data and services backed by intelligent automated request fulfillment processes for fast, accurate, and controlled service delivery
Built-in intelligence evolving toward machine learning, robotics, and artificial intelligence
A vendor capable of partnering with us throughout our digitalization journey
We recently began implementing our enterprise management system based on the BMC platform because BMC was one of the vendors fulfilling most of our requirements. Additionally, BMC's Cognitive Service Management (CSM) solutions—which encompass digital automation, artificial intelligence, and machine learning to drive agility, productivity, and efficiency—align closely with Continental's strategy for transforming the way service is delivered and consumed by our employees and customers.
We are working closely with BMC Customer Success Services as well as BMC Platinum Partner VIPCON GmbH & Company KG to manage our mobility service initiative and evolve our service management solution to incorporate more and more intelligence and automation.
Digitalization of IT
Success in achieving Continental's business goals depends heavily on the IT organization's ability to manage an increasingly complex environment that supports the creation and delivery of digital services. Consequently, servitization and digitalization are rapidly elevating its role from supporter of the business to a partner to the business. That new role, although far more challenging, is also far more rewarding and exactly where we want to go.