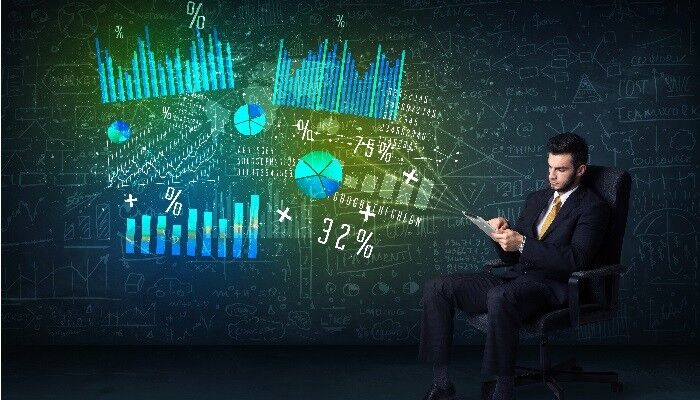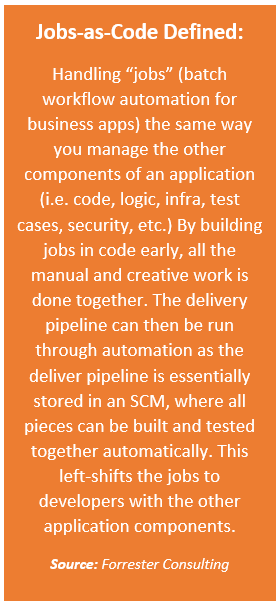 BMC recently commissioned Forrester Consulting to conduct an independent evaluation of the benefits a Jobs-as-Code approach creates in driving greater efficiency across the software development life cycle (SDLC). They started with this hypothesis – by adopting Jobs-as-Code and shifting batch processing left in a code form factor familiar to developers, organizations could then leverage their DevOps philosophies and tooling to drive greater efficiencies across the SDLC.
I believe the research results can empower IT organizations. Let's see if you agree.
We often think of batch processing as old-school, but it is the foundation for managing ever-growing business workflows. Forrester found that 92% of companies say batch is here to stay.
Yet the emergence of DevOps best practices requires companies to learn how to use technology to complete app releases faster, while simultaneously improving quality.
The challenge? Product teams are siloed across the life cycle, creating islands. This traditional approach creates problems like slow manual handoffs, rework, and decreased resolution times. Additionally, the DevOps industry as a whole hasn't addressed this specific process around batch/job schedule automation, making it become somewhat of a 'blind spot' for application development. Out of sight, out of mind… right?! Wrong!
Forrester found that all teams recognize provisioning and configuration as a pain point. 30% of companies cite a lack of automation for configuration and integrations across the complete delivery cycle as a top challenge. But they also found that Jobs-as-Code is on the rise. 93% of respondents see value in using Jobs-as-Code to improve software delivery, and 46% of companies express interest in, or are planning to, implement Jobs-as-Code.
It's easy to see that collaboration is key. 65% of respondents experience friction between app dev and ops teams in development and testing. But when done right, Jobs-as-Code improves the quality of code in production. 45% of companies report or anticipate fewer errors in production with Jobs-as-Code, and 44% cite fewer errors in code.
So, what's the secret to success? Automation, configuration and integration. Automated provisioning of testing environments removes delays and uncertainties – assuring configurations are deployed. It also increases the certainty of success and assures that configurations used in testing are reflected in production to ensure consistency and quality.
Continuous delivery is critical. Another recent Forrester report said, "if organizations are to transform the way they deliver solutions to their customers, they will need to shift from a traditional development and delivery model to a continuous delivery model — one that infuses ops processes into the development workflow and mandates complete automation."1 88% of respondents say automation for jobs/batch processing is important or very important for the SDLC.
And last, but certainly not least, implementing Jobs-as-Code drives greater efficiency and quality across the life cycle. Introducing Jobs-as-Code as a DevOps best practice, in which automation rules are created by the developer, and transitioning batch to the proven SDLC automation toolchain allows development, testing, and automation of the complete business workflow life cycle. As Forrester puts it, "this solves the primary issues identified by survey respondents."
Are you ready to see what is in your DevOps blind spot? Read how to enable DevOps through Jobs-as-Code in your organization. I'd love to hear more about your DevOps journey.
Click here to download the complete study, Making Business Workflows First-Class Citizens in the Modern Software Delivery Life Cycle.
Citation:
1 "Case Study: Dynatrace's Journey Toward Delivering Business Transformation," Forrester Research, Inc., August 7, 2017↩