The price of of digital business incompetence is real and growing. The Gartner Group predicts a quarter of businesses will lose their competitive ranking by 2017, succumbing to competitive business models and talent drain. Digitally savvy Millennials will comprise three quarters of the workforce in just fifteen years. They demand mobility, constant social engagement, instant access and ad hoc collaboration. Success will depend on how quickly and deftly companies build a thriving, digital workplace. It's critical to focus on major technology trends and key workplace themes. Here are five ways to overcome some standard hurdles.
1. Be Fast and Flexible
Connectivity and collaboration are the lifeblood of a a thriving digital workplace. "Speed is the new intellectual property," writes Steve Boyd, Managing Director of Gigaom Research. Surveys show top IT departments have been early adopters of mobile, cloud, BYOD and new communication and collaboration techniques. They are fast and flexible. With this in mind, BMC was inspired to develop a modern service app store for multiple cloud-based and on-premises sources. My IT Service Broker helps managers easily create new services and modify existing workflows. It's a consumer-style, corporate IT store for hardware, software and services. The system can aggregate multiple catalogs from any source, saving time and speeding adoption.
2. Employee Engagement = Business Profitability
"Cultivate deep engagement," advises Booz, Allen, Hamilton in The Digital Workforce, Rethinking the Way We Work. "In many ways, digital is shifting power from your organization to your employee or customer." The Gartner Group also views employee engagement as pivotal: "The new ways of working require behavioral changes as employees collaborate, take on challenges and provide local leadership to redesign the workplace," writes Heather Levy in Eight Building Blocks for the Digital Workplace. Gartner and other consultancies still recommend developing traditional road maps. But many corporations are moving away from paternalism and finding inspiration in more inclusive approaches, such as the Rowe (The Results Only Workplace Environment) movement, a flexible management strategy where employees effectively manage themselves and are "evaluated on performance, not presence."  Innovative employee engagement is essential to a successful digital workplace strategy.
3. Embrace Mobility
Mobility is the mega trend in technology and work. Today, smart phones, tablets and laptops are our primary tools of social engagement, entertainment and work. Desktops are a symbol of corporate obsolescence. Forward-looking companies go beyond BYOD to provide staff with their choice of premiere smartphones, and ample support. The investment pays off in productivity and heightened morale. Putting superior digital tools in the hands of your workers is a far wiser allocation of resources than bonuses or fancier offices. The digital workplace is constantly in motion. Workers need to be able to access apps and IT services on the go – anywhere, anytime. Millennials view themselves as empowered, mobile individuals, and the faster you recognize that with increased support and resources, the faster your business will reap the rewards.
4. Consumerize Your IT Offerings
Today's varied consumer digital experiences on mobile devices pose both a threat and opportunity for IT departments. Employees hooked on Facebook, Instagram, Netflix and sophisticated apps, expect consumer friendly user experiences, including from the IT department. Jobs are changing fast. New consumer focused digital tools are required for emerging IT roles like Business Architects, Data Scientists, Social Media Architects, Cloud Engineers and Mobile Technology Experts. Meanwhile, the division between consumer computing (our digital free time), and workplace computing is vanishing. Employees demand social and collaboration work tools that mimic their experience throughout the day.
5. IT Is Key to Balancing Satisfaction and Security
While the trends of mobility and consumer influenced tools are transforming the digital workplace, IT's role remains critical. Ad hoc approaches frequently fail. Experts recommend cultivating a cohesive portfolio of digital workplace tools and services, and developing clear policies to better manage the investments and serve all communities, employees, partners and customers. IT guidance is key for insuring that digital tools meet human business needs and objectives that provide workplace satisfaction without undue security risks.  The good news is that adopting a strategy that embraces major trends and the rise of ubiquitous mobility allows you to take solid steps toward a diverse, coordinated digital workplace.
Learn more about MyIT Service Broker.
Read more about the digital workplace: Delivering the Digital Workplace Without the Chaos
Gartner Magic Quadrant for ITSM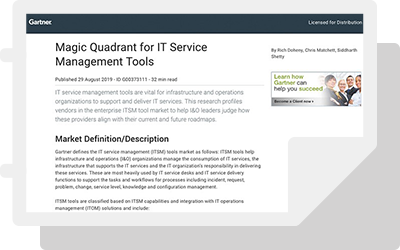 For the sixth year in a row, BMC is a recognized leader in IT Service Management Tools. Download the free report to see why!
Download Now ›
See an error or have a suggestion? Please let us know by emailing blogs@bmc.com.