In this five-part blog series, members of the BMC OnDemand organization will share their perspectives on the key tenets that guide the way we run BMC software in the cloud for our customers. The first tenet is Standards that scale. Nandu Mahadevan, who leads BMC's OnDemand organization, provides his views on Standards.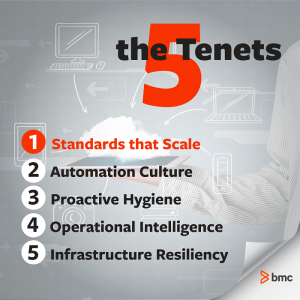 Tenet One: Standards that scale
Standards for training, repeatability, and automation are the rules of engagement that enable a cloud service to scale. They are the language of a high-performance operating environment for humans and machines alike. Delivering on the promise of an enterprise cloud service that is highly available and infinitely scalable starts with the basics. Every aspect – naming servers, network devices, IP addresses, version concurrency, maintenance cadence, security standards, and adherence to the ITIL® process framework – are part of what I call Standards.
Automation of tasks should be based on standards. I'm a big fan of automation because simply throwing more people at the problem eventually hits the point of diminishing returns. Automating chaos, however, will only lead to more chaos, and faster! Any value-added automation needs a consistent and reliable source of truth to base decisions on. For example, in many organizations, even the most well-established tasks, such as deploying patches, require accurate information. Missing targets or patching extraneous targets can have serious implications. Most IT directors know what I'm talking about: "One of these days we're going to clean up our CMDB." Sound familiar?
With more than 4,000 servers and 10 global data centers supporting several hundred clients that pass through millions of transactions a day, leveraging the Remedy OnDemand Cloud, BMC OnDemand finds a reliable CMDB essential.
I worked in BMC IT for almost a decade before taking this role. My team specialized in automating IT functions and had a lot of fun doing it. At one of my quarterly briefings with the CIO, he asked my team a question: Where would we start our maturity journey if we went back in time and knew everything we have learned over the years? The answer was resounding and unanimous: configuration management. And this response was from a group that included both process gurus and technology gurus. Configuration management often forms the foundation for everything in a highly mature operating environment. Standards begin there and grow, enabling people and technologies to excel at what they do best – thus building scale without compromising quality.
In our next blog, we'll discuss our second tenet for high-performance IT operations: Automation culture. 
Gartner Magic Quadrant for ITSM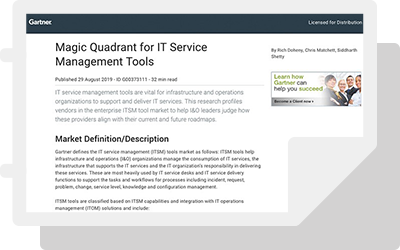 For the sixth year in a row, BMC is a recognized leader in IT Service Management Tools. Download the free report to see why!
Download Now ›
These postings are my own and do not necessarily represent BMC's position, strategies, or opinion.
See an error or have a suggestion? Please let us know by emailing blogs@bmc.com.