In this five-part blog series, members of the BMC OnDemand organization will share their perspectives on the five key tenets that guide the way we run BMC software in the cloud for our customers. Nandu Mahadevan, who leads BMC's OnDemand organization, provides his views on the third tenet: Proactive Hygiene.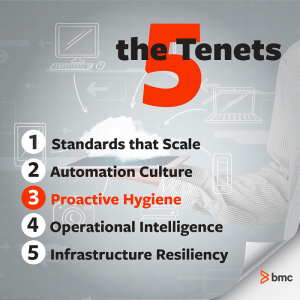 Tenet Three: Proactive Hygiene
In the world of BMC Remedy OnDemand, systems are constantly provisioned and decommissioned, software and hardware vendors are constantly releasing fixes and upgrades, and disruptive technology trends are continuously challenging the status quo. It is no different than most technology operating environments.
The efficacy and value of any system degrades over time if it is not properly maintained. An "if it isn't broke, don't fix it" approach will only lead to stagnancy and decline. This happens for two simple reasons: the rate of progress in technology is continuing to accelerate, and change is the only constant in a dynamic operating environment.
Things do drift with time. Systems still under monitoring might no longer exist in your CMDB or you might have new CIs show up in CMDB that are not yet in Monitoring. A chunk of your configuration items may not even be discovered today. Your automation jobs may not be subscribing to your CMDB and may be out of sync with reality. Servers within the same application pool may be off-sync in their configurations. It's possible you have duplicate CIs in your CMDB or the CIs have moved locations but not reflected properly. The list goes on and you get the point. Keeping up with all of these dynamics requires conscious and well-established hygiene practices.
In BMC IT, we had built a machine that could run operations. However, in order to prevent our highly automated machinery from losing steam, we needed to get real-time visibility into its internal health. We designed a real-time portal to look for discrepancies by inspecting data accuracy, data integrity, interoperability, and availability of all our management tools, thus maximizing value from these investments.
In a nutshell, Proactive Hygiene is everything we need do to continually sharpen the saw, so to speak. This includes OS patching, DB patching, firmware upgrades, hardware upgrades, application patching/upgrades, DB index and table defragmentation, DB statistics updates, CMDB health checks,  monitoring tune-ups, application health checks, configuration drift management, and things of that nature.
With each release of BMC Remedy ITSM, our product architecture is aligning more and more with the qualities that cloud service providers like my team desire: multi-tenant, clustered, and stateless. Combining these key attributes is quite powerful and makes it possible to do non-disruptive hygiene tasks while giving customers sustained levels of high-quality service. This gets us closer to the goal of zero downtime.
In our next blog, we'll discuss our fourth tenet: Operational Intelligence. 
In case you missed them, here are links to the first two Tenets for high-performance IT operations.
Tenet One: Standards that Scale
Tenet Two: Automation Culture
Gartner Magic Quadrant for ITSM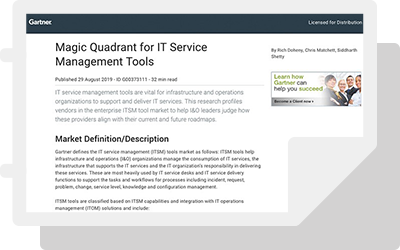 For the sixth year in a row, BMC is a recognized leader in IT Service Management Tools. Download the free report to see why!
Download Now ›
These postings are my own and do not necessarily represent BMC's position, strategies, or opinion.
See an error or have a suggestion? Please let us know by emailing blogs@bmc.com.