In this five-part blog series, members of the BMC OnDemand organization will share their perspectives on the five key tenets that guide the way we run BMC software in the cloud for our customers. Nandu Mahadevan, who leads BMC's OnDemand organization, provides his views on the second tenet: Automation Culture.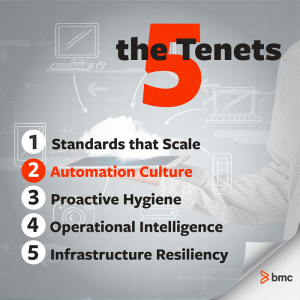 Tenet Two: Automation Culture
Every organizational leader I've had conversations with gets that automation is the only strategy for scaling IT operations. Yet sometimes, it seems that leaders hesitate to take action even in spite of that understanding. Why do leaders have a hard time executing a strategy they know is right? I don't know where the expression "culture eats strategy for breakfast" originated, but it rings so true!
With a few hundred customers using BMC Remedy OnDemand, I look at our operations as being in their early stages. I see my job as a leader to bring IT operations to a state that can handle rapid growth, yet still continue to enhance service levels.
Building a new culture starts with galvanizing a group of people toward a singular focus. In my recent years of IT leadership, our organization's singular focus, no matter our roles as individuals, was to automate IT.  This meant, no matter what our role was, the underlying objective was to "Automate IT." Unless we were building something publishable, reusable, maintainable, or extensible, we were probably not generating new value. In operations, it is too easy to fall into the trap of getting gratification from herculean efforts to save the day or to simply take comfort from a constant influx of support tickets and emails that fill up a typical day at work. I often remind my team that the day "service disruptions" start to look like "service requests" is the day we can mark as the beginning of the end.
An organizational tip I may offer is to bring together folks that handle administration of ITSM systems, monitoring, and automation, under unified leadership. That way, the operational focus can be both wider and more refined, centering on automation of end-to-end operational use cases. The effect of synergy is much greater this way. We often hear "Automation Culture" talked about along with "Innovation Culture," because the need to do something differently is often the impetus behind automation. On that, I would like to share a note from an executive course I took at Stanford: In order for innovation to flourish in large organizations, it is important to have strategically placed leadership prophets that can help navigate political hurdles that might stifle innovation. This means we need to appoint leaders with enough authority to sponsor innovation projects, even if they fail–the projects can be fast and cheap, you'll keep your talent pool, and you'll stay open to technology breakthroughs.
To me, Automation Culture means to make every operator an engineer and let the workload of operations be handled by machines instead. This is a self-fulfilling prophecy because engineering activities bring about a higher sense of gratification for technology professionals. That in turn fuels passion, accelerating throughput and thus leading to higher degrees of automation. In my years at BMC, my teams have built over 2,000 IT automation workflows supporting 21 business services and 287 technical services while enjoying every bit of the journey. I look forward to executing the same strategy within Remedy OnDemand operations, which is well on its way.
In our next blog, we'll discuss our third tenet: Proactive Hygiene. 
In case you missed it, here is the link to the first Tenet for high-performance IT operations.
Tenet One: Standards that Scale
Gartner Magic Quadrant for ITSM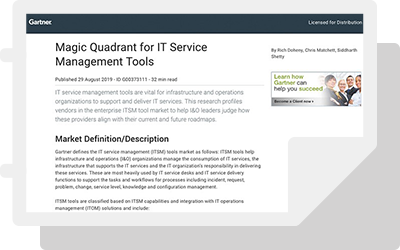 For the sixth year in a row, BMC is a recognized leader in IT Service Management Tools. Download the free report to see why!
Download Now ›
These postings are my own and do not necessarily represent BMC's position, strategies, or opinion.
See an error or have a suggestion? Please let us know by emailing blogs@bmc.com.