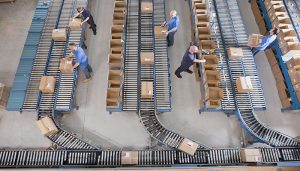 At Windstream Communications, our focus is on providing advanced network and telecommunications services in rural communities across the U.S. We've become a leader in our markets because of our commitment to delivering exceptional service to every customer, from individual consumers and small businesses to midsize and large enterprises. IT supports Windstream's customer-first philosophy by ensuring that our employees have ready access to customer data, order entry, billing, and other critical systems they need to serve our customers.
Considering that these systems are spread across 3,000 servers in five data centers, that's no small order. We really couldn't do the job without the help of BMC Discovery and BMC Atrium Configuration Management Database (CMDB). This combination gives us visibility and insight into our environment so we can maximize the efficiency and effectiveness of our IT service management (ITSM) processes and, as a result, keep critical business systems running smoothly.
Efficient Incident, Problem, and Change Management
Automated discovery and dependency mapping has dramatically enhanced our ability to capture detailed asset and dependency data across our network. That data is collected via weekly scans and aggregated and stored in our CMDB where it's available to support our incident, problem, change, compliance, service request and other service management processes and to ensure maximum efficiency of those processes. So, for example, when an employee reports an incident, topology information tells us which assets are involved as well as how they relate to each other. Consequently, we can quickly zero in on precisely the source of the issue and resolve it quickly. Multiple incidents are correlated and presented as a single problem, which saves additional time.
Anecdotal evidence shows that we've been able to shrink mean time to repair from days to hours. What's more, help desk agents now respond to employees more effectively because insight into the topology helps them determine which employees are affected by an incident and keep them informed on the incident status.
Topology information has also improved our change management process. We now understand what kind of maintenance windows we need to accommodate changes as well as how many users will be affected during maintenance. That helps us schedule changes in a way that minimizes disruption to our users and notifies people in advance of the change. When a change request is submitted, we know what assets and what employees will be affected by the requested change. As a result, we're planning changes more effectively and we're avoiding change collisions. For example, if someone schedules a Windows server software update at the same time the server is scheduled to be taken down for routine maintenance, we know about the conflict in advance and can adjust the schedule accordingly.
Keeping the Infrastructure Up to Date
The BMC Discovery Extended Data Pack has been super useful in keeping our IT infrastructure up to date and handling end of life more efficiently. We're currently running a cleanup project to weed out and upgrade the weak points in our infrastructure. For example, we found several servers that were still running older versions of Windows. Our Enterprise Agreement with Microsoft allows us to upgrade those servers at minimal cost, so the kind of visibility we have now enables us to take advantage of that agreement.
We've also identified all of our older servers and we know when support ends for those operating systems. And, because automated discovery tells us what hardware is on those servers, we can determine if we need to upgrade the hardware components before updating the operating system. Keeping the operating systems up to date enables us to keep the information on our network secure and to maintain compliance with industry and government mandates.
In addition, we've received reports from employees indicating that certain applications were sluggish. The asset data in our CMDB showed us that the servers involved had insufficient memory or processing power to deliver acceptable performance. By upgrading the hardware, we were able to boost not only application performance but also employee productivity.
Clear Visibility into Software Licensing Position
We also leverage BMC Discovery in software audits for truing up and reporting license consumption as well as proactively preventing licensing violations. In the past, we generated audit reports manually using spreadsheets. We had one person dedicated full time to that task. With automated discovery, we can create a new audit report in about 30 minutes, save it, and rerun it when needed in three minutes or less. So when our auditors send me an email on Friday requesting a report by Monday, I can run the report immediately and send the results right back to them.
Discovery also helps us keep ahead in licensing. Let's assume, for example, we've purchased 2,000 licenses for a particular software product and an audit report shows that 1,900 of them are already allocated. By combining that information with usage trends, we can accurately forecast how many additional licenses we'll need and when. As a result, we can request a budget increase and purchase the licenses in time to ensure that they are available when our employees need them.
Extending the Value
What I appreciate the most about BMC Discovery and the BMC Atrium CMDB combination is the ease to set up and expand quickly if needed. My personal initiative this year is to expand my knowledge of the full capabilities of BMC Discovery, so that we can increase our return on investment in the BMC solutions. I expect that Start Anywhere Application Modeling, or SAAM, will give us deeper insight into our network, such as which application components are running on which servers. That will help us immensely with our homegrown applications, being able to map these custom applications from anywhere. I will also be looking into the BMC Discovery storage add-on that provides visibility into our storage attached network provisioning. This will give us a better vision into our storage mediums and devices, for a deeper look at how our stored data is managed.
Our emphasis will be on constantly expanding how we leverage the technologies these solutions offer, but it is not about the technology itself. These innovations enable us to gain deeper insight into our environment, and that is what empowers us to keep our critical systems running, our employees productive, and our customers happy.
Gartner Magic Quadrant for ITSM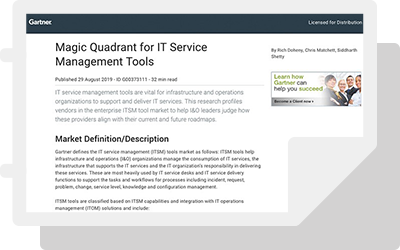 For the sixth year in a row, BMC is a recognized leader in IT Service Management Tools. Download the free report to see why!
Download Now ›
These postings are my own and do not necessarily represent BMC's position, strategies, or opinion.
See an error or have a suggestion? Please let us know by emailing blogs@bmc.com.