Charter Manufacturing is a steel and iron production and manufacturing company that was founded in the 1930s. Although we are a large company, we are a fourth-generation, family-owned business, and family ownership definitely influences our culture. We look at our employees as family members, and we consider our family orientation to be our strongest competitive advantage. A key factor in that culture is empowering our people to innovate and grow the company. And the key to empowerment is providing the digital services people need.
That's where I come in. I'm the technology and user services manager. My responsibility is, in a nutshell, all things end user. My group provides end-user support services and manages all the devices people use to access these services. The devices range from computers and mobile phones to the scanners and other devices used in our shipping departments for various supply chain processes.
Our industry is highly competitive and fast-moving, and we rely on digital technology to give us a competitive edge. For me, that means continually innovating and improving the services we deliver. Areas we're currently pursuing include providing better access to data, offering access from any location and any device, and keeping equipment up to date.
Delivering the Right Data in the Right Form at the Right Time
Our corporate culture is about putting customers front and center. From an IT perspective, that means giving employees the data they need to interact with customers. That data must be presented in a form that employees can easily understand and use.
As recently as a few years ago, people were content with getting information from printed IT reports delivered on a regular basis. Today, however, they want information at the drop of a hat. Printed reports no longer meet their needs. Instead, they want the data presented graphically via dashboards, with the ability to drill down into the details.
The problem for IT is that the data is scattered across many systems and sources. The challenge is to combine all that information and deliver it to users quickly and in a friendly and usable format.
Building the Digital Workplace
More and more, our users want to work remotely, and they're tired of dealing with the complexities of some of the older remote technologies. They don't want to take the time to log into a virtual private network (VPN), connect to a server, and jump through hoops to get what they need. They want to go to a website, log into a portal, and click their way to the data they're looking for. What's more, they want the flexibility to get data not only using a PC or laptop, but also using a smartphone or tablet.
To meet this need, we're taking a device-agnostic approach to remote access using virtual desktop interface (VDI) technology. That not only satisfies user demands for access from any device, but also gives us a technical advantage in that it permits backward compatibility with existing applications.
One of our divisions already has a global portal and the users love it. They can log into their desktops from any device and from anywhere in the world. When I talk to these users they tell me that the portal really helps them in the performance of their jobs. So that's the direction we're looking to go across all divisions.
Keeping Equipment Up to Date
Because employees rely so heavily on their digital devices, they can't afford to be without them.  That's why we've completely revamped our PC refresh process to slash the time users have to be without their computers, from about four hours to just minutes. We now gather information automatically from the user's computer and then use automated tools to provision and configure the new computer. People bring the old PC in and we hand them the new one. We're also using a version of that process for new hires.
To make the refresh process even friendlier, we're working on developing personalized dashboards that will notify users when a PC, smartphone, or other device is due for refresh. The user will then request that refresh right from the dashboard.
Cultivating the Right Mindset
I strive to instill in my team an obsession for shrinking response times. I tell them to look into even the simplest processes. We've done some very simple things to improve efficiency and have received emails from users saying, "Wow, that saved me hours."
For example, we have a group of users who need a special set of drivers to access reporting. We built an installation package to deploy the drivers automatically and are now rolling out that ability to the BMC Client Management MyApps portal. As a result, people can now submit a request on demand and get the drivers without assistance from our team. We've also enabled people to use the portal to perform automated PC house-cleaning actions, such as clearing browser and Java cache files.
In many cases, the improvements took just minutes to implement, but they made a big difference for our users. And that's really what our fundamental responsibility is: Empowering our family and making everyone more productive. What makes my job exciting is that there are so many things we can do to automate and give users the services and data they want whenever and wherever they need them.
Gartner Magic Quadrant for ITSM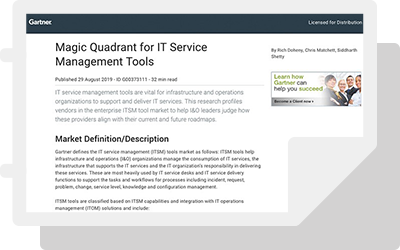 For the sixth year in a row, BMC is a recognized leader in IT Service Management Tools. Download the free report to see why!
Download Now ›
These postings are my own and do not necessarily represent BMC's position, strategies, or opinion.
See an error or have a suggestion? Please let us know by emailing blogs@bmc.com.