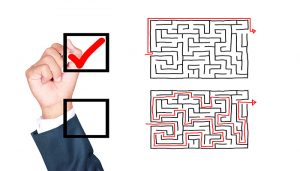 According to Pew Research, about 4 in 10 U.S. adults have expressed their feelings on social media platforms – like Facebook and Twitter – about the products and experiences they received from companies. About 86% have done so after a positive experience and 77% after a negative one.1 Social media impacts purchasing decisions. If your digital customers can't get the availability and performance they expect when they interact with your company, they can easily share the details of these problems and hurt your business.
So, think about what you can do to manage systems more effectively – more dynamically. You want your customers to be part of the 86% that shares on social media based on pleasant experiences, instead of reading how it took so long to process an online transaction that a customer left your website to buy from a competitor, a flight got cancelled because a system went down, or someone couldn't access an online bank account to pay a bill.
Digital engagement is speeding up the rate of application change and the rate of transactions. Now is the time to look at your approach to mainframe systems management and learn about truly innovative capabilities that can improve the customer experience, drive revenue, and reduce costs. Listen to this on-demand IBM Systems Magazine webinar Dynamic Mainframe Systems Management to the Rescue and discover how it can help you meet the challenge of digital business.
Move from passive to dynamic monitoring
In this webinar, you'll learn how passive monitoring simply isn't good enough in today's fast-paced, increasingly complex, digital world. Remember, digital business magnifies the impact of an outage and reduces the time in which customers must fix it by a significant order of magnitude. You need a mainframe systems management solution that can meet this challenge. That includes not just providing proactive performance capabilities, but also making it intuitive and easy to use for experienced and new mainframe professionals alike.
Passive monitoring is based on keeping your eyes on a monitor to react to a situation and operational problems. But if you don't have a single view and single point of control, and you're looking at a silo-specific monitor where you can't see the inter-relationships between one technology and another, then you're just delaying problem detection and resolution. You must look at multiple consoles and yet still can't follow the problem to its root cause . As a result, the first sign that there is a problem is when the service or help desk is contacted. Users complain – and then there's a big rush to reactively determine what's going on! In some cases, it could take hours or even days to restore service to the levels customers expect. For example, packages may not get shipped to their destinations based on the deadlines that have been promised.
Register for this webinar now and you'll hear how leading companies are solving problems proactively and doing it faster while reducing costs, increasing business growth, improving productivity and delighting customers with BMC MainView, which delivers dynamic systems management. Get the details on how:
Analytics-guided analysis can spot potential problems
Dynamic automatic responses can deliver service quality at lowest cost
Intelligent activity-based thresholds can ensure you are alerted to issues that matter
Alarm management and smart alarms surface real problems
Truly innovative systems management keeps pace with digital business
Re-evaluate your approach
Whatever monitoring approach you're using today, examine closely what you're doing and how you're doing it. If you don't have MainView, you'll discover how it can benefit your business. And if you already own MainView, you'll learn how to maximize the value of your investment in this integrated solution. For example, research with BMC customers consistently demonstrates how they are offloading more CPU processing to zIIP engines to reduce costs. Plus, 95% of MainView customers surveyed who compared MainView to leading competitive products said they would recommend MainView.
Don't wait. Learn how dynamic systems management is helping BMC customers meet the challenges of digital business. Register today for this informative on-demand webinar.
1 www.pewinternet.org/2016/12/19/online-reviews, December 19, 2016, Online Shopping and E-commerce – Online Reviews ↩
Annual BMC Mainframe Survey
The 14th Annual BMC Mainframe Survey 2019 reports optimistic trends about the mainframe's role in emerging and established businesses.
Download Now ›
These postings are my own and do not necessarily represent BMC's position, strategies, or opinion.
See an error or have a suggestion? Please let us know by emailing blogs@bmc.com.