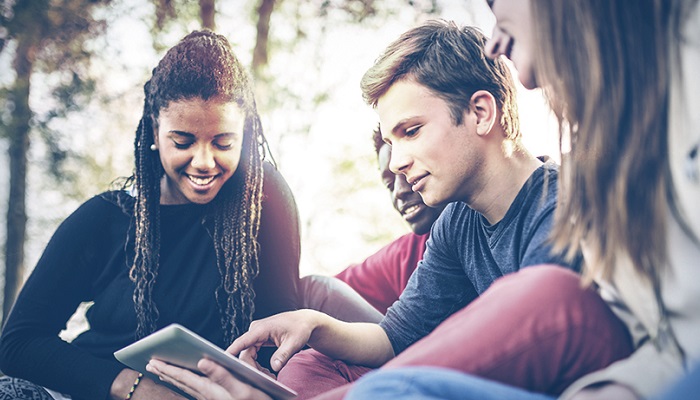 Just when companies thought they'd seen it all in self-absorbed social media-crazed Millennial workers, HR firms, and brand and marketing experts warn this is just the first wave. Gen Z workers will test the ability of many companies to be both seamlessly digital and yet surprisingly human and socially engaged.
Dubbed a "Demographic Juggernaut," the Gen Z youths born between 1996 and the mid-2000s will begin flooding the workplace at the end of this decade, eventually totaling 60 million. Studies have revealed surprising differences from their Millennial elders. A study by Universum of 55,000 high school students and recent high school graduates in 46 countries revealed that more than half want to start their own company. This entrepreneurial spirit exceeds that of Millennials. Entrepreneurism is in their DNA, and workplace dynamics must support that independent streak.
Meanwhile, Gen Z's relationship with technology and social media is surprisingly complex. The New York Times recently quoted Hannah Payne, an 18-year-old UCLA student and blogger: "We're the first true digital natives. I can almost simultaneously create a document, edit it, post a photo on Instagram and talk on the phone, all from the user-friendly interface of my iPhone."
But while these digital natives have come of age in a world flush with smartphones, laptops, tablets, and streaming online content at the very same time that traditional print media (newspapers, magazines and books) are dying, experts say Gen Z workers may ironically be more focused and directed when it comes to technology. They've learned from some cautionary tales of Millennial personal excesses, the failures of those who all too often have been distracted by social media. In other words, Gen Z workers may be smarter about digital tools, seeing them more in the framework of an engaged, holistic workplace.
Interestingly, they expect robust digital tools, but in a more open, collaborative, and purposeful human environment. They expect to "shop" at company app stores like MyIT Service Broker to find crowdsourced solutions.
"With Generation Z there is less social media about oneself and more about the community," says Colleen Broomall, the Millennial publisher of a new Gen Z girls site called YSBnow.  "People want to start talking to one another in this generation where it's dynamic, and the company is socially conscious. I think they're seeking a work environment where there is a lot of open dialogue, the way Netflix is run, where it's a team effort."
Indeed, a joint study from Millennial Branding and Randstad US reported that 53 percent of Gen Z workers would rather communicate face-to-face than through instant message or videoconference.
Gen Zs appear more savvy than Millennials regarding technology and work process. This generation has witnessed the risks of Facebook over sharing, and has instead embraced Snapchat or Whisper, where youthful indiscretions disappear. That deeper understanding of the value of reputation and personal brand will likely make this generation value privacy in the workplace and demand employers respond accordingly. Companies have numerous opportunities to connect with the talent and commitment of this generation. Fully 77% of Gen Zs indicate they expect to work harder than previous, according to a study by Robert Half. The same research showed that they prefer small team collaboration. The boomer gap may present the biggest looming tension. Numerous studies show that Gen Zs express reluctance to work with this less digitally savvy generation.
Companies that have invested in the digital shift toward Millennials – embracing BYOD, laptops, tablets, and cloud-based software services and company app stores like MyIT Service Broker – will likely have an edge with this even more technically advanced generation. IT departments that invest in self-teaching tools will profit, as Gen Z is adept at learning how to use applications through watching YouTube-style training videos and studying self-paced online modules. Interestingly, readying Millennials in the do's and don'ts of managing Gen Z workers will also be critical. Expect the next generation to be more realistic about career opportunities, yet more idealistic about their employers' social profiles.
Fast Company recently advocated the importance of "Detoxing Your Workplace of One Size Fits all Solutions." Gen Zs will demand a diverse set of digital tools, both offered by the company and publicly accessible. Wise companies will recognize this generation's comfort with physical mobility and mobile tools, and will respond by creating office spaces or zones offering a variety of ways to digitally work and interact — collaboratively, individually, and socially.
Gen Z's technological fluency will mean that they will embrace tasks fluidly using different tools in different locations — for instance, a laptop at a desk, or an iPad or smartphone in a collaborative space. Anticipating this open attitude toward work, companies are even making their outdoor spaces tech friendly.
Finally, be ready for Gen Zs to start pushing the envelope.  IT departments have just a few years to prepare. A Sparks & Honey report states that in a single day, Gen Zs will often multi-task across a handful of screens, expecting "seamless integration."
A primer on digital transformation leadership strategy
Learn the fundamentals of innovative IT leadership with practical steps so that you can start leading digital transformation within your company.
Download Now ›
See an error or have a suggestion? Please let us know by emailing blogs@bmc.com.