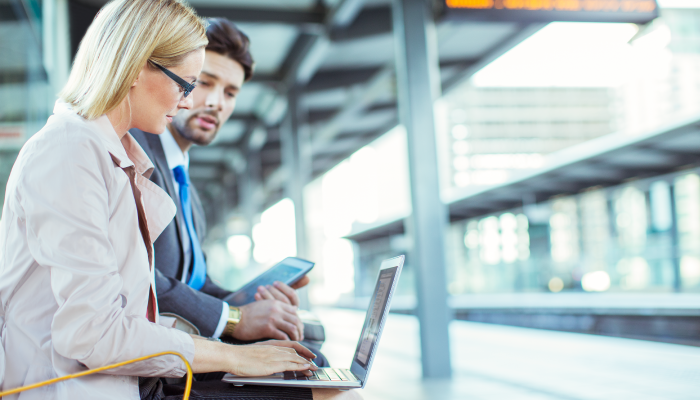 Digital experience monitoring is rapidly becoming more relevant to most modern enterprises. They must provide multi-faceted digital experiences that consumers demand in order to keep their business.
For example, we now have compute power in the palm of our hands with apps like Venmo, PayPal, and Akimbo, as well as with apps from most mainstream banks. With these apps, we can transfer money to friends, pay people for services, and book travel without paper money or checks having to change hands. If one app doesn't work well for our circumstances, we jump to another.
The IT infrastructure required to run these apps and the way that the compute power ends up in the palm of our hands—typically in a tablet or smart phone—has changed significantly. The apps are delivered by microservices that scale and update in a continuous delivery model with on-demand and static resources used from multi-cloud environments, while the back-end processing of digital financial information resides in mainframes that still run batch jobs from data centers.
We're all connected to an immense set of innovative and distributed technologies alongside a mainstay of infrastructure. For the core of IT processing, if it's not mainframes, it could be any legacy system for storage or computing that might not need to be updated as rapidly as the front-end apps that define the user experience more directly.
As most enterprises are undergoing this digital transformation overhaul to meet the needs of modern IT, maintaining legacy systems in the data center alongside the more agile public and private cloud adoptions is crucial. Monitoring these environments across multi-cloud, modern, and legacy systems requires the new approaches that are associated with digital experience monitoring.
How does digital experience influence the success of today's IT initiatives?
First, consider that the "user experience" for applications is what many enterprises have focused on for years but now that's changing—rapidly. It's not just about the user experience of the central, revenue generating or business critical application, but rather the overall "digital experience" of users interacting with all digital aspects of the enterprise.
For the external customers of an enterprise, a typical digital experience is created out of a complex set of services that are provided to the user – from web content, digital advertising, cyber security, application performance, social media, and more—all delivered across multiple channels and technology pathways. Enterprises want users to have a consistent, high-quality experience at every digital interaction.
Digital experience scenario
Consider a typical banking experience for any consumer. They most likely have a direct deposit link to their checking account, multiple financial commitments including a car, home-equity line of credit (HELOC), and a credit card. Additionally, a "premier" banking membership offers them special rates and services.
They interact with the bank in the following ways:
Mobile app they use to transfer money and deposit checks
Desktop app they use to do planning and download statements
Customer service phone support agent
Bank teller or representative at a walk-in branch
Loan officers for automobiles and mortgages
ATM machines located across the world
There's a digital footprint associated with any of these activities that must be monitored in a holistic way to create a seamless and unified client experience. When competition is fierce, digital experience matters.
For internal customers in an enterprise, think of a similar complication of digital footprints that deliver services from public and private clouds, data centers, and remote offices with the employee's experience at the forefront. We're no longer as tolerant of slow apps at work – we demand consumer-grade performance. To help us, we're using Software-as-a-Service (SaaS) apps supplied to us from central IT for some things that used be hosted in-house, like Microsoft Office 365.
Taking it a step further, successful enterprises recognize that the importance of monitoring and understanding the digital experience for both external clients and internal users within their organization will be intertwined. For example, consider the associate on the phone at a bank interacting with you and they are accessing your digital footprint from one angle and you're accessing some of the same data from another angle. The intersection of you and the associate has a digital experience significance. We've all heard, "Wait one moment, my computer is acting slow today." or "Due to an unnecessarily high call volume, wait times are exceeding ten minutes."
Key elements of digital experience monitoring
A sound digital experience monitoring strategy involves a range of IT systems across the enterprise that must interoperate efficiently. Enterprises evolve to digital experience monitoring strategies from traditional application performance management (APM), IT Service Management (ITSM), and IT Operations Management (ITOM). These practices are still relevant but are part of the overarching strategy of digital experience monitoring.
Before considering digital experience monitoring systems, the business strategy for the enterprise must have "buy in" at the top level of the organization to make the effort for a coordinated mission from the top down. Otherwise IT owners will be making decisions without a view of the overall digital experience goals.
Here are some key elements of digital experience monitoring that can help:
Reduction of silos—Monitoring data can be scattered throughout the enterprise. Performance data from applications and infrastructure, IT operations alerting and event data, and IT service data can be monitored and managed by many diverse departments across the organization and can change with innovation and technologies from acquisitions. A cohesive strategy in place that strives to reduce these silos into trusted views of performance data that are available across the organization will help to monitor and improve digital experiences for both external and internal users.
For example, if you're about to roll out a digital marketing campaign to an existing set of customers but don't realize that those same customers have a boatload of support tickets waiting in a queue or have been commenting on social media channels about some of their pitfalls, you could end up not addressing what is relevant.
Actionable business data—Knowing how changes affect the bottom line of the business helps to provide effective digital experiences that drive positive results within budget while meeting revenue goals. Knowing what the cost is for improving a service in relation to its outcome can help to make good business decisions.
As an example, improving the speed of checkout times for an eCommerce site might reduce the abandonment rate of the page before a customer completes an order. With actionable business data, you could determine how improving the response time of each element of that page interaction with improved code or infrastructure resources has an impact on that digital experience of purchasing an item online. This framework could apply to any interaction that generates revenue. Improving the code or upgrading the infrastructure could be considered in an analysis.
Ease of use—IT tools are plentiful. Some are very powerful but complicated to use and maintain. Others can be too simplistic and do not scale well in larger enterprises for production. Ease of use for digital experience monitoring applies within the tools themselves and across the set of tools within the organization. Having IT tools that work well together and have a common framework for viewing and processing data can have huge benefits for digital experience monitoring.
If incident data from service tickets works well with IT operations data, the mean time to repair (MTTR) any IT issue can greatly improve and contribute to ease of use for both IT service desk workflows and IT operations workflows.
Flexible to change—When you have IT tools that can change and adapt to new technologies or interoperate with emerging technologies, you won't be stuck with blind spots in your digital experience monitoring strategy. No one wants shelfware that occurs when you lock into an IT vendor that has capabilities that become outdated before the end of your contract.
Flexibility comes with open architectures and API's that help you interact well within and across your IT tools. For example, having plug-ins and adapters for the most relevant vendors that need to interact with your IT tools is desired. But if not, the ability to develop your own as needed with customization frameworks keeps your digital experience monitoring strategy up to date. In some cases, you can partner with IT vendors to "certify" the quality of integration.
Infrastructure utilization and forecasting—Knowing the time to saturation of any resource based on usage trends as well as what-if scenarios can help make decisions that impact performance and help with planning. Running what-if scenarios for just about anything in IT can have huge benefits. Being able to determine how much it costs for infrastructure hosting decisions on premises, in private or public clouds, as well as between different vendors in a rapidly changing environment of cloud resources can help you make good decisions that helps to keep IT budgets in check and deliver performance.
Global and local—The digital experience that you strive to deliver for both internal and external customers must involve a global view of shared resources where performance is tied to aggregates rather than just individual user experience. Today's multi-dimensional delivery of IT must address a more holistic view of performance so that it's not just APM or end-user experience monitoring (EUEM) that drives decision making. Because architectures can be extremely complex and distributed, knowing that whole sets of users are impacted by a small change in code or infrastructure while others using the same app have no issue at all can help you have a more strategic plan of triage.
For example, you could have regionally specific resources hosted in public clouds that include the same microservices running in other regions but only one region is experiencing a problem brought on by a provider outage or a glitch in configuration. You would not know why the users in that region had a problem unless you had a more holistic view.
TrueSight at BMC
TrueSight is an AIOps platform, powered by machine learning and analytics that elevates IT Operations to improve the quality and performance of digital services that run in hybrid and multi-cloud environments. Leveraging the TrueSight platform, you can ensure that you're creating great digital experiences across all channels that face your customers – both externally and internally – to build loyalty, deliver services faster, and increase revenue.
For more information see: www.bmc.com/it-solutions/truesight.html
Get practical guidance for AIOps
IT operations teams have to work faster and smarter than ever to meet the demands of digital transformation. This e-book offers a practical, real-world look at ways artificial intelligence can improve the speed and efficiency of
ITOM
.
Download E-Book ›
These postings are my own and do not necessarily represent BMC's position, strategies, or opinion.
See an error or have a suggestion? Please let us know by emailing blogs@bmc.com.