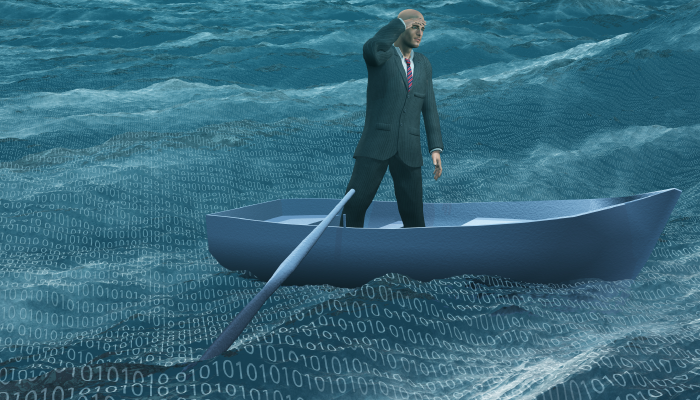 If you've ever experienced being caught in a flood, you may be familiar with the devastation that can happen if you're not prepared. In cities, for example, streets can suddenly turn into rivers. Basements can overflow and become death traps. In those critical situations you may have enough time to move to higher ground and safety if you pay attention to a flood watch announcement by the weather service. Every second counts.
Now, think about how this analogy applies to DB2 and the waves of data flooding your systems. What do you need to do to avert a disaster and keep your business running smoothly at all times? Just as an umbrella is little help in a flood, outdated data management tools that can't keep up with the pace of digital business are not much help either.
It's Raining Unstructured Data – Manage It with Ease
It's no surprise that the demands of digital business have created an explosive growth in DB2 data. In fact, the amount of data in digital systems is DOUBLING every two years. So, the data flood "watch" period is over and now it has reached the "warning" phase. What are you going to do about it? This isn't your daddy's DB2. The challenges you face to manage DB2 are greater than ever before. The flood is bigger, growing faster, and it includes all different types of data – of which 90 percent is unstructured. Don't get me wrong – unstructured data can provide enterprises with valuable insights that weren't available in the past. You just have to make sure that your data management tools, processes, and people can handle this growth.
Will you be prepared to manage unstructured data and keep it from flooding your systems and applications and putting your business at risk? Register now for BMC Software's IBM Systems Magazine Live Webinar on July 14 and learn from experts about how to stay ahead of the storm while providing the performance and availability your business demands.
Requirements for Data Flood Protection
One of the major challenges in managing unstructured data is maintaining data integrity. DB2 can store unstructured data using BLOB, CLOB, and DBCLOB data types – known as LOBs (large objects). A single LOB can require maintenance for thousands of LOB tablespaces and countless pointers. This can be a growing concern to DBAs who are time-constrained and have to manage huge datasets, particularly if they use older tools that were never designed to tackle this complex design of unstructured data.
By leveraging next-generation technology that simplifies data management, there's no need to run multiple utilities to maintain LOBs in DB2. A single process can maintain LOB integrity while managing the massive volume of data, all while leaving all objects online for application processing. This capability increases availability, keeping customers happy, and improves the productivity of a newer workforce of DBAs, who have to manage more data in a more complex environment and do all of this faster and easier.
The rivers and streams of unstructured data will continue to rise. Take control and learn about best practices and technology for managing unstructured data with no downtime. Register now for the IBM Systems Magazine Live  Webinar on July 14 at noon CT: Data Flood Warning: Managing the Wave of Unstructured Data in DB2 for zSystems. You'll discover how to reduce costs, simplify data management, increase application performance, and improve productivity.
Order Now! Get your free Db2 collateral from BMC!
Get your free Reference Guide and Catalog Tables Poster for z/OS from BMC.
Order Now ›
See an error or have a suggestion? Please let us know by emailing blogs@bmc.com.