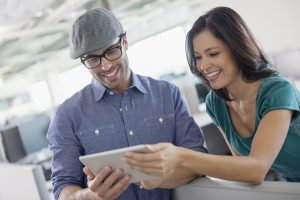 Businesses must provide new value and experiences for customers to stay relevant, and now, more than ever, that includes making the leap to digital transformation. As this shift occurs, the line separating IT's responsibility and the domain of the business is dissolving. I previously wrote about this on LinkedIn, "Application Delivery is Crucial to the Enterprise."
BMC recently commissioned Forrester Consulting to conduct a study titled, "Digital Business Requires Application Performance Management.[1]" The study surveyed U.S., UK, and German IT operations decision-makers to determine their biggest challenges in digital service delivery and the role IT plays.
The survey revealed the top critical or high business priority for the IT respondents was to improve customer experience (76 percent), which came in ahead of the need to grow revenue and reduce costs. Yet, improving the customer experience is harder than ever given the increasingly complex IT environment driven by multiple code platforms, mobile-first necessity, hybrid cloud architecture, and rapid release cycles.
The survey found that digital service management remains a challenge for most organizations, especially those that have complex or multi-tiered applications with intricate inter-dependencies. The survey revealed that more than half of the organizations suffered from business-critical application performance and availability problems, at least weekly (57 percent). Additionally, many of the respondents (52 percent), stated their investments in monitoring and management tools were reactive and tactical or distributed.
To improve digital service performance, availability, and usability, IT operations must make digital service management a priority. When asked about the top desired monitoring/ management solution capabilities, the survey respondents stated they needed:
Rapid root-cause analysis to pinpoint digital service issues quickly and to highlight the source be it a back-end infrastructure workload, the consumer device or the application issue
Automation of script-based action on an alert or error event to fix simple issues as well as those involving a complex response to process tasks such as spinning up a virtual machine based on demand
Deep-dive analysis to make it easy for IT to analyze infrastructure and application components in order to optimize capacity, change, and release management processes
The Forrester study found "…that great APM is about proactive insight. Historically, the core requirement for any APM solution is to rapidly identify the root cause if a digital service issue arises. But today's customers expect digital services to be available and perform well anytime and anywhere. This means that IT operations professionals should look for solutions that provide the ability to make forward-looking insights through analytic features. The aim is not only to avoid performance, availability, or usability issues from occurring in the first place, but to help make decisions that will improve the end user experience."
For a copy of the Forrester Consulting study visit, "Digital Business Requires Application Performance Management."
[1] Source: "Digital Business Requires Application Performance Management," A commissioned study conducted by Forrester Consulting on behalf of BMC Software, January 2015
Get practical guidance for AIOps
IT operations teams have to work faster and smarter than ever to meet the demands of digital transformation. This e-book offers a practical, real-world look at ways artificial intelligence can improve the speed and efficiency of
ITOM
.
Download E-Book ›
These postings are my own and do not necessarily represent BMC's position, strategies, or opinion.
See an error or have a suggestion? Please let us know by emailing blogs@bmc.com.