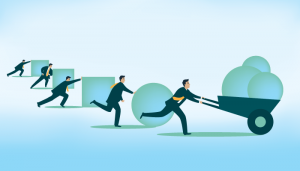 Don't be fooled. If you think that you're surviving the data deluge of this digital economy it could just be an illusion. The relentless pace of digital business is putting intense pressure on DBAs just to stay afloat, and these demands will only increase. This year, for example, each mobile customer will make about 50 transactions per day and each transaction will create between 200 to 5,000 mainframe system interactions.
And guess what? This activity is just a start. See what happens as the data explosion expands further, new data types continue to be introduced, and objects keep getting larger and larger. For DBA's, there's good news and bad news.  First, the bad news: It's only going to get more difficult for DBAs to manage this growth if they have to rely primarily on traditional DB2 tools and workarounds. Or, should I say, "unworkable" workarounds. This includes skipping reorgs, ignoring unstructured data, and leaving old procedures in place that just don't work in today's environment.
Now the good news:  here's what you can do to solve these problems and start moving from just surviving to thriving. IBM Systems Magazine is hosting a live webinar on Wednesday, February 22 at noon CT, sponsored by BMC, which will show how next generation utilities for DB2 can take away this pain. In fact, you'll see how to go from a survival approach to a strategy that makes the job of DBAs simpler, ensures data quality and performance, and helps the organization to scale.
Bring your boss to the webinar – It covers what your management needs to know
This webinar will review changes in the data management world and update your management team on the challenges that impact DB2 today.
Without modern tools to meet today's demands, applications can slow down and downtime can increase. Customers may even start complaining about performance. So, if an application is down due to maintenance, and your customer can't order a product, can your company really afford to lose their business? Or worse, what if their negative impression is posted on Facebook or Twitter?
Time to thrive
Why should DBAs have to perform time-consuming and unworkable workarounds when modern automation can help address the biggest challenges to data management? Here are some of the highlights of what you'll learn in the webinar and how next generation technology has helped BMC customers manage data more effectively and meet business demands:
Avoid the problems caused by workarounds for old procedures that can lead to skipping reorgs, deferring maintenance, and ignoring unstructured data.
Ensure that LOBs (large objects), which contain valuable, critical data, can be managed easily and that there's no data loss.
Have greater confidence in data quality – whether it's structured or unstructured. That's enough to help you sleep better at night, isn't it?
Manage 100% of your data automatically and optimize it without any application outages.
Scale to meet the challenges of digital business.
Are you ready to simplify DB2 management and reap the rewards? Register now for the live BMC/IBM Systems Magazine Webinar: From Surviving to Thriving – Gain a Performance Advantage for DB2 z/OS on Wednesday, February 22, noon CT.
Get ready to thrive!
Order Now! Get your free Db2 collateral from BMC!
Get your free Reference Guide and Catalog Tables Poster for z/OS from BMC.
Order Now ›
These postings are my own and do not necessarily represent BMC's position, strategies, or opinion.
See an error or have a suggestion? Please let us know by emailing blogs@bmc.com.