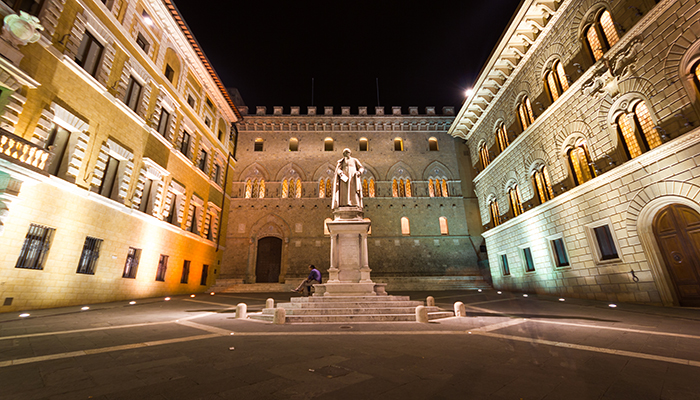 Headquartered in Siena, Italy, Banca Monte dei Paschi di Siena (MPS) has been operating continuously since 1472, making it the world's oldest bank. Today, MPS has more than 25,000 employees serving four million customers through more than 2,000 branches.
Two years ago, we introduced Widiba, a new Internet banking presence supporting more than 150,000 users. Our users actively contributed to Widiba's development, from the selection of the name (WIse-DIalog-BAnk) to the submission of thousands of ideas that were transformed into the innovative digital products and services Widiba offers to clients.
Consorzio Operativo Gruppo Montepaschi, a subsidiary of MPS, develops, manages, and maintains computer and telecommunication systems for both traditional and online banking services within MPS. The IT infrastructure includes our mainframe environment and a highly virtualized distributed environment, both of which must deliver high-performance, 24/7 availability. As the distributed environment has grown, the IT staff has constantly looked for ways to manage that growth and contain costs. At the same time, ensuring that the online experience meets customer expectations is a top priority.
Two years ago, we established a capacity management team to optimize resource utilization in the distributed environment. The purpose of this transformation was to develop an accurate view of distributed and virtual systems, understand resource utilization, rightsize the environment, and optimize costs while maintaining on-time service delivery.
Using BMC Software's TrueSight Capacity Optimization, the team launched a project focused on increasing utilization levels of a particular server farm comprising 2,208 servers. As a result of this first wave of optimization, the team has already reduced CPU, storage, and memory requirements and we are now working to achieve additional improvements in that same server farm. Ultimately, we plan to expand our optimization and rightsizing effort to our entire environment, which includes 5,000 servers.
A step-by-step approach to optimization
While reducing IT costs is an important objective, ensuring reliability and high performance of critical systems is paramount. That's why we are taking a step-by-step approach that divides the effort into waves, with each wave focusing on driving up resource utilization to a higher level while ensuring performance goals are met.
TrueSight Capacity Optimization gives us visibility into how servers are utilized in the target environment. It also provides a view of resource utilization by application, which makes it easy to detect big resource users during any defined period. Better visibility is enabling us to identify opportunities to better match compute, storage, and memory capacity to our applications and service demands. Figure 1 shows the workflow we used for each optimization wave.
Higher utilization yields higher ROI
Before we launched the rightsizing project, average server utilization was five percent, virtual machine (VM) density was 18 VMs per physical server, and average storage utilization was 85 percent. For the first wave, we set a conservative goal of increasing average utilization across the target servers to 30 percent. We then carefully monitored the environment to ensure that no incidents or disruptions occurred. Additional objectives included increasing VM density to 22:1 and increasing storage utilization to 90 percent.
By increasing average server utilization, we reduced the number of VMs by more than 11 percent and disk space by nearly 15 percent. We are now working to increase utilization levels to 40 percent, which will increase our return on investment in IT resources. Our ultimate goal is 50 percent utilization.
Gaining infrastructure visibility
With TrueSight Capacity Optimization, we are now positioned to further improve resource utilization because we can allocate capacity based on business requirements. We now have a single configuration management database (CMDB) that provides a service-oriented view of the environment. The CMDB provides visibility into the various groups within the infrastructure. It exposes the logical names of applications and business services and we can see the underlying infrastructure that supports those applications and services.
Because of this ability to drill into a particular application or service—for example, the 12 servers that support Widiba—we can understand application and service behavior. That visibility enables us to identify applications that are heavy resource users.
Conclusion
With a smaller, more efficient infrastructure, we're reducing both costs and business risk and realizing a higher return on investment. Our continued rightsizing efforts will help us drive additional efficiencies and save even more money in the future—money that we can invest in exciting and innovative digital banking services for our customers.
For more information on BMC TrueSight Optimization, click here.
Get practical guidance for AIOps
IT operations teams have to work faster and smarter than ever to meet the demands of digital transformation. This e-book offers a practical, real-world look at ways artificial intelligence can improve the speed and efficiency of
ITOM
.
Download E-Book ›
These postings are my own and do not necessarily represent BMC's position, strategies, or opinion.
See an error or have a suggestion? Please let us know by emailing blogs@bmc.com.