BMC serves about 10,000 customers and has 6,000 employees around the world, and we run the Oracle® E-Business Suite with hybrid IT infrastructure that includes six Oracle application nodes and four web nodes that connect remotely to a clustered production database. Oracle is our ERP, but of course we run much more software than Oracle. Until we started leveraging Control-M, conducting routine system refreshes was anything but refreshing.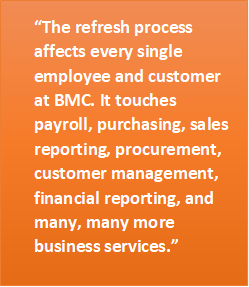 We wanted to have our information up-to-date at all times, but it wasn't. The system refresh process could take two to three days, so we updated systems on a rolling basis. That meant the data and reports business users were working with might be fresh, or might be three days old, depending on the report and where we were in the update cycle.
Every business service, process or report depends on our refresh process. We couldn't speed the process by focusing on one system or application, because of the dependencies on workflows and different databases and applications throughout the company. The refresh process affects every single employee and customer at BMC. It touches payroll, purchasing, sales reporting, procurement, customer management, financial reporting, and many, many more business services.
We needed to be able to refresh our systems faster and provide broad access to real-time information, but where to start? The basic process for system refreshes went like this:
Open a ticket request for refresh.
The approval triggered us to take a snapshot of any applications and databases involved in the refresh process.
Those applications and databases were then shut down.
The refresh was executed by pulling in updated data from other systems (for example Salesforce), which could trigger those systems to shut down.
There were quality control tasks at every step, which added time to the process. We spent a lot of time validating and scrubbing data from our Oracle systems, and since the Oracle E-Business Suite touches so much across the company, that was a major data quality management task.
I've been using the term "refresh" like it is one process, but system refreshes actually involve anywhere from 20 to 200 separate tasks that need to run together in sequence. That should give you a sense of the potential for delays and failure.
We used to execute most of these steps through scripts and manual monitoring. That kept our developers very busy writing scripts to accommodate new service requests, and to maintain the tens of thousands of scripts we already had in place. And, as I noted, we also had people spending a lot of time scrubbing our Oracle data.
Automating with Control-M
BMC has become a digital business over the past few years, and as part of that we've become a more automated business. Today I'm very happy to report that the refresh process described above is a relic of the past. We've been able to automate most of it with Control-M. Now we refresh daily and it only takes about four hours; there is no more two-to-three day wait. We typically complete the update after our North American coworkers leave for the evening and before our colleagues in the Asia Pacific region begin work in the morning.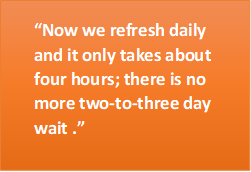 Now almost all the steps and subprocesses required to refresh systems run as automated workflows. Control-M works with Oracle's Concurrent Manager in Oracle E-Business Suite to manage workflows in that environment, but also seamlessly integrates and coordinates with all our other systems and jobs. Control-M manages the dependencies, scheduling, execution, monitoring and notifications, and many business users are monitoring and rescheduling their own jobs by using Self Service.
We still use some scripts, but even that is automated because we can schedule scripts and build a job by dragging and dropping within the Control-M GUI. We don't need developers to write scripts anymore. That's been very valuable to us, because now our development team is spending much more time on forward-looking programs rather than maintaining the infrastructure. For the IT team, spending much less time on system refreshes and much more time focused on innovative and cutting-edge work has truly been "refreshing".
Learn more >> See how Control-M can integrate with all your mission-critical business applications, including Oracle, SAP®, and Informatica.

Oracle and Java are registered trademarks of Oracle and/or its affiliates. Other names 2017-07-06 may be trademarks of their respective owners.
SAP is the trademark or registered trademark of SAP SE in Germany and in several other countries.