Few business applications are as essential to a company's day-to-day operations as Oracle®. It's no different for BMC.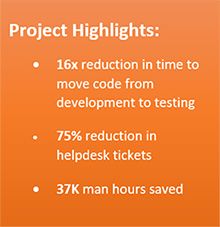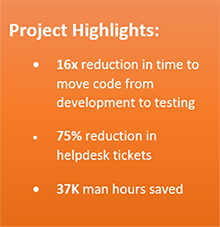 From executive-level financial reporting and accounts receivable to payroll and purchasing, this mission-critical software impacts every single employee in our business – personally and professionally.
When BMC decided to implement Oracle, I was tasked to lead a team of more than 100 staff and contract developers to manage the application rollout, which took over a year to complete. For a project this large and complex in scope, communication and collaboration were critical. We thought we were in good shape but quickly learned that there were some key components missing including better automation.
For projects like this, it's not uncommon to have more than 10,000 code moves – each requiring a string of tickets between the developers, the helpdesk and the system administration team. At the start of the project, when developers were ready to move chunks of code from development into testing, they had to submit a ticket and wait four hours before they could move to the next step. You can do the math. That's 40,000 worker-hours of downtime! It wasn't hard to see that the process was highly inefficient and would add months or years to an already lengthy project.
We knew there had to be a better solution. Fortunately, BMC has Control-M, and that's exactly where we turned.
Automation with Control-M
After implementing Control-M, we saw immediate improvements. Developers were empowered to initiate the code move process on their own, and Control-M automatically placed the code to the appropriate environment. Developers then had almost immediate access to complete the testing. The time needed to complete code moves decreased from four hours to 15 minutes – that's 16 times faster than before!
We also saw a 75 to 80 percent reduction in helpdesk tickets generated. That freed my staff up to focus on more important tasks like installing security and performance patches, completing application upgrades, etc.
Today, Control-M is at the heart of all our projects, automating complicated and challenging workflows. This project also spurred us to start using Control-M Self Service to give BMC's business users visibility and control of their workflows in a way that's easy to understand. This has created additional IT bandwidth that allows us to focus on more specialized tasks.

Oracle and Java are registered trademarks of Oracle and/or its affiliates. Other names 2017-07-06 may be trademarks of their respective owners.
SAP is the trademark or registered trademark of SAP SE in Germany and in several other countries.