Eliminate IT Friction, Drive Productivity, and Create Meaningful IT Experiences for Everyone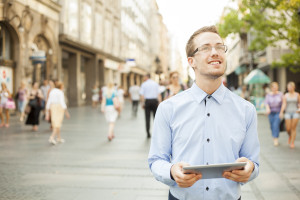 Newly appointed BMC ITSM president, Robin Purohit, discusses the BMC vision for ITSM in this blog aimed at identifying the responsibilities of the CIO and IT organization in this era of IT transformation, and the strategy, team, and resources needed to address this shift—and win.
The current changes in the role of IT have been a long time coming. Initially, IT was relegated to the background, delivering important but invisible back-office business processes. Next, IT focused on "aligning with the business," which primarily meant making sure line-of-business stakeholders in sales, marketing, and procurement were satisfied with the alignment of those business processes and people were able to get their jobs done online.
Currently, we are experiencing the next phase, which is ensuring people are highly productive in their work, personally engaged in using digital technology to create revenue or engage customers, and extending the boundaries of IT to the customer. In fact, I increasingly hear customers speak about how they are investing in "digital services" more than "IT."
A great example of what must change is the shift in application design away from employees filling out multiple online forms, tedious workflows, and no small level of frustration as the back-office bureaucracy is made all too visible. Compare this to the modern mobile application experience we see in the consumer world where elegance of design rules, a one-click experience gets things done, and contextual information is pushed to the individual. It is imperative that IT bring a much more human experience to the business world. The one-click experience isn't just for business users. As the saying goes, IT is typically the cobbler's child when it comes to a joyful, modern use of technology. Traditionally, IT solutions have focused on defining and automating pre-defined processes with workflow design and custom scripting, compliance checking, and sifting through data from multiple tools to sort out what's really going on. The service-oriented tools and IT workflow automation of the last 10 years have helped IT teams focus on what's most important to the business by finding the signal in the noise, but my belief is that benefits from this era are largely realized and a different approach is required to reach the next level of IT productivity.
In this next era, extreme levels of automation are assumed and either built into the application stack or arrive out-of-the-box. At the same time, cloud and agile development mean processes need to adapt to the reality of IT having less control while becoming adept at managing a faster rate of change. IT staff must use mobile-first, social collaboration to swarm problems, tap into their internal and external networks to find contextual knowledge to innovate faster, and drive relentlessly to create self-service for their customers. In this new era, IT workers will actually enjoy their work rather than be overwhelmed by chaos.
So what does this mean to the CIO? A modern CIO knows that infrastructure is a commodity, meaning they need to drive to cloud economics and ensure their infrastructure is optimized for both business and customer-facing applications, or focus on the big data initiatives that their business peers really care about. With the explosion of SaaS applications, each line of business always has a choice to go directly to the cloud without IT. The new design point for the CIO is to fully embrace a multi-sourced cloud, deciding which services are absolutely essential to run in their own data centers, and which can be moved to an outsourcer or public cloud. The CIO is expected to make all of this work together seamlessly, providing always-on customer and employee access to services, integrating processes and data without users seeing the complexity, and doing it with less control over the IT stack. This is the new industrialized IT—and when it is done right—it enables IT to focus more time and creativity on digital service innovation.
BMC Reinvents ITSM for the New IT Transformation
The reason I joined BMC is that I see an amazing opportunity to reinvent traditional ITSM for this new IT world. While we make traditional ITIL automation more out-of-the-box and simple to adopt, we have also already begun using the best disruptive technologies available in new ways around automation, social, mobile, and cloud. This starts with providing a breakthrough mobile-first user experience to rethink how business users interact with IT and how IT goes about supporting business. The BMC MyIT application has excited our customers because its design hits the mark on delivering a delightful and engaging experience on accessing IT services and eventually all back-office services. We are following this with a redesign of the Remedy user experience for IT, dubbed Remedy with Smart IT. The beta feedback from hundreds of users indicates this will provide a meaningful productivity impact for IT in dealing with massive numbers of incoming incidents and problems. This is just the start for us, so I want to layout our guidelines for BMC's new products and design approach:
1. People should enjoy using technology. Consumer mobile and web apps provide digital experiences people genuinely like. The tools they use at work should do the same. People who enjoy their jobs are more engaged, less frustrated, and more productive. The new interfaces from BMC will enable people to enjoy both the experiences and the results of their interactions with IT.
2. Forms must go. Nobody wants to interact with long forms—for one thing, you can't fit them on an iPhone. The rising generation won't put up with them, and they shouldn't have to. IT must now be formless and predictive. Instead of providing endless details themselves, people should be able to describe their problem in simple terms—"keyboard stopped working"—and let the system fill in details about their identity, role, location, device type, preferences, and so on.
3. The future is collaborative. Raised on social media, today's workforce turns naturally to their extended network for help solving problems. They don't just sort through search results for answers; they tap into the collective intelligence and collaborate on solutions. Often, the best knowledge can be found outside the firewall—in fact, many BMC customers are now turning to resources like social platforms before they call us for support.
4. The cloud calls for a new mindset. Cloud computing has brought an entirely new paradigm to IT. The location of resources—on-premise, offsite, or hosted by a third party—is no longer a definitive concern; organizations now make flexible use of assets across diverse hybrid environments. We should leverage this flexibility within our IT organizations and in the way we deliver services to our customers. That calls for new ways of thinking about things like service management, security, integration, and standards and compliance. It's not an overnight transformation—it's a fundamental strategic shift and needs to be treated as one. The organizations that complete it thoughtfully will achieve true innovation and receive a competitive advantage.
Our Next Steps
I've been fortunate to see many paradigm shifts in IT, and there is no doubt in my mind that we are in the middle of major change in IT and what ITSM needs to become. As I work with the BMC team, it comes down to this: if we obsess about the user experience in everything we do—from how the products look and how people engage with them, to how quickly people get value out of them when we ship—we'll deliver amazing impact on business productivity. Not just within traditional IT boundaries, but extending to digital services that reach the customers of our customers. I'm a big believer in open discussion with the marketplace and customers, so I'll be using this blog to share my thoughts on the market and our direction. I encourage all of you to share comments, feedback, and ideas.