You've recently seen the exciting news with BMC utilities for DB2, adding CDB Software utilities to the mix. But your current BMC utilities are also gaining steam! Read this blog to find out about the most recent enhancements released for BMCSTATS and DASD Manager.
Move more processing to zIIPs with DASD Manager Plus!
This enhancement enables BMCSTATS to offload significantly more processing to IBM zIIP processors. The BMCSTATS utility currently enables offloading eligible workloads to an IBM System z Integrated Information Processor (zIIP) on IBM z9 and z10 systems. Through BMCSTATS, DASD Manager Plus can now offload eligible workloads to a zIIP in order to free general computing capacity, which can help to:
Lower monthly licensing charges (MLC) from IBM
Reduce your mainframe's total cost of ownership (TCO)
In addition to improving BMCSTATS performance in general, this SPE significantly increases the amount of statistics-collection processing that BMCSTATS can offload to a zIIP. Specifically, the SPE enables you to offload:
All DB2 page file I/O processing
Table space data analysis
Index space data analysis
For more information about either of these new enhancements, see the Technical Bulletins located in the BMC Documentation Center.
Gartner Magic Quadrant for ITSM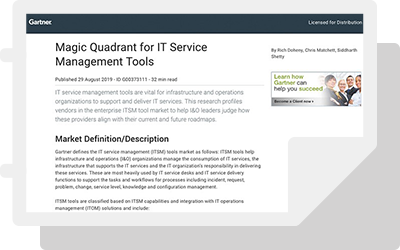 For the sixth year in a row, BMC is a recognized leader in IT Service Management Tools. Download the free report to see why!
Download Now ›
These postings are my own and do not necessarily represent BMC's position, strategies, or opinion.
See an error or have a suggestion? Please let us know by emailing blogs@bmc.com.