The challenges facing a modern digital business can be numerous. From ensuring the security of your data to providing the best possible availability and performance, you have many goals to balance. You need innovative technology that keeps pace with the challenges, helps you address issues, and enables you to thrive.
BMC has such a long-standing commitment to innovation on the mainframe that "Innovation" might as well be our middle name. In 2017, our cutting-edge technology was awarded nine U.S. patents. And over the past 18 months, BMC has delivered new technology that keeps your data continually available (even during maintenance), monitoring capabilities for mainframe Java environments, and unique intelligent cost management solutions.
To address your security and compliance challenges, improve performance and availability, and manage costs, you need innovative solutions faster than ever. You need more automation, machine learning, and advanced AIOps technologies to move your business forward. We understand the pressures you're under. We anticipate your needs, and we are working diligently to help you meet them. We roll out new capabilities continuously, and so far in 2018, we have released several new enhancements to our mainframe solutions:
Automate routine database maintenance and improve availability with Next Generation Technology solutions for Db2
Modernize mainframe management with risk-free automation of your IPLs with one-button IPL in MainView Console Management
Strengthen your security posture with encryption support in CMF Monitor
Simplify the implementation of the IMS catalog with Catalog Manager for IMS
Take advantage of IBM Container Pricing
You need a trusted advisor who is not only committed to the mainframe but is also innovating in the space. Make sure you take a look at what BMC has to offer. Delivering new and exciting enhancements and releases has been—and always will be—a focus for BMC. Each quarter, I'll provide a summary of our recent releases.
To learn more about how BMC solutions can help you unleash the power and value of your mainframe, visit our Mainframe Solutions pages. If you haven't done so already, register for Proactive Notification to ensure that you get the most up-to-date release information.
Forrester study reveals strategies for controlling mainframe costs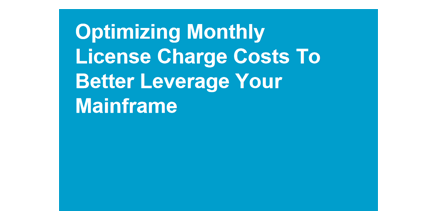 Read this Forrester paper to learn more about the key findings of this study and how to reduce MLC costs.
Download the Study ›
These postings are my own and do not necessarily represent BMC's position, strategies, or opinion.
See an error or have a suggestion? Please let us know by emailing blogs@bmc.com.