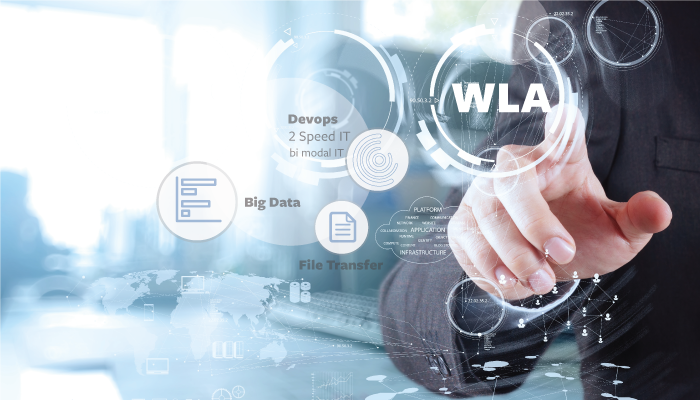 Improving the speed of execution and managing Digital Transformation are two of the most important and widely shared imperatives among businesses today. Workload automation may not be top of mind when business leaders strategize about how they can transform and become faster, but perhaps it should be. That's just one of the conclusions we took away after reviewing Enterprise Management Associates' 2016 EMA Radar™ for Workload Automation, a thoughtful analysis of how Workload Automation supports business transformation. Read BMC'c Hadoop Tutorial for Beginners ›
Workload Automation (WLA) has a clear part in helping businesses execute top-level strategy, and BMC's Control-M is playing a starring role. After interviewing users about their WLA needs and frustrations, and carefully evaluating 13 additional offerings, EMA rated Control-M the Top Workload Automation solution on the market.
Control-M cleared these areas with Top Honors earning title "Value Leader:"
Highest score on Architecture and Integration
Highest score on Functionality
Highest score on Vendor Strength
Highest score on Deployment and Administration
EMA wrote: "Control-M is the strongest product in this year's WLA Radar Report, achieving the highest overall score on Functionality, Architecture and Integration…. Control-M is an outstanding choice for organizations that intend to give WLA its rightful place as a data center discipline with significant business impact."
EMA also honored Control-M with the Special Award for Most Comprehensive Big Data support. The Big Data award is recognition of the tremendous value that Control-M for Hadoop provides by helping organizations quickly create Big Data workflows and manage them easily.
WLA should not simply be viewed as a tactical tool to help IT Operations staff do their jobs, but should be recognized as an asset that can help the entire business be faster and more responsive. Developers can leverage capabilities to automate workflows while applications and business services are being developed. The result is less required testing and rework, with services put into production faster. For business users, modern WLA solutions provide Self-Service features so users can monitor and manage their workloads without having to go through IT.
The EMA report provides clear, concise coverage of WLA's role in improving the speed of execution and enabling businesses Digital Transformation. It describes how features and functions available in some of the advanced, enterprise-ready WLA solutions specifically support essential business requirements.
Digital transformation- using data, pervasive connectivity, and easy to use mobile device to change the way businesses interact with their customers and conduct their core activities.
Faster rate of change – Continuous Delivery and DevOps are reactions to business demands for faster development of new applications and services and more frequent updates.
While we rightly focus on how WLA supports rapid change in business today, we should also note what hasn't changed: this is the third-consecutive time (report) Control-M is the highest-rated product in EMA's WLA Market Radar study, which goes back to 2010. That's a long time to stay on top! We continue to look towards the future so we can deliver the features to help our customers get ahead in the marketplace, and stay on top.
Download a complimentary version of the full 2016 report here to gain more perspective on how Control-M can save you time and accelerate your business transformation.
2019 EMA Radar for Workload Automation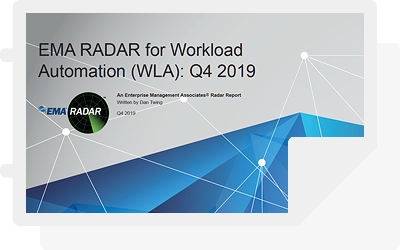 In the Radar Report for WLA, EMA determines which vendors have kept pace with fast-changing IT and business requirements. Read the report to learn why Control-M has earned the top spot for the 5th year in a row.
Download the report ›
These postings are my own and do not necessarily represent BMC's position, strategies, or opinion.
See an error or have a suggestion? Please let us know by emailing blogs@bmc.com.