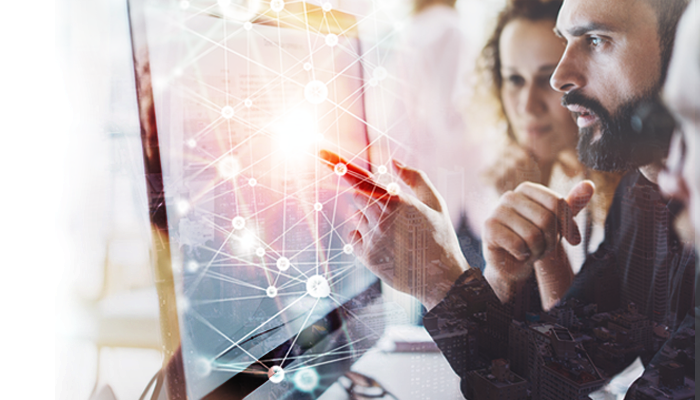 Big Data means different things to everyone.  My mother for instance just thinks it must be lots of data – and while she may not be the most technically versed person in the world, she's actually correct.  Big Data is also something that most people in business these days would say is one of the current hot trends and their company better get on board before getting left behind.  And again, there's a school of thought that would say, indeed, they are correct as well. Read BMC'c Hadoop Tutorial for Beginners ›
But data has been around for a long time – and it's been big for lots longer than Big Data has been a trending topic.  The difference is the technology that makes extracting meaningful value from the extraordinary amount of data that is collected all day, every day.  And it's followed the same trend that many technology innovations have as well – expensive when first available and eventually reduced to something affordable for the masses.  Not to date myself, but remember when cell phones were something only the super-rich could have – and you knew they had one because of the small refrigerator they struggled to hold up to the side of their heads?  Okay, most of you may have a tad fewer candles on your birthday cake and unable to recall cell phones larger than a pocket-sized calculator – but trust me, it was like talking into a large brick and weighed just as much (or so I've been told).
As with any technology that companies across the globe adopt, eventually the use will demand that some policies and accountability be put in place.  I am not saying that this will change the agility that is closely tied to Big Data.  Or that these process requirements to conform to various corporate and industry regulations will eliminate or slow down the autonomy that businesses have driven when first adopting big data technologies such as Hadoop.  At least it shouldn't.  That's what BMC believes and that's what we are delivering to the market.  Managing how your data moves, where it resides and who has access to it has driven business for years – nothing new there.  But how you apply management to the technology wherever your data resides when you introduce Hadoop is new. BMC is automating, accelerating and optimizing your Hadoop deployment so that you can focus on the analytics to drive your business forward without driving your profits into the ground.
BMC Solutions for Big Data
Solutions such as Control-M for Hadoop, TrueSight Capacity Optimization for Hadoop and BMC Helix Discovery are a few of the solutions that will drive your projects forward. Control-M Automation API is technology that will drive the game changer – it takes traditionally IT operations batch processing technology and embeds it into the development code, accelerating the hand-off that meant multiple back-and-forth emails and lengthy delays between development completion and production introduction.  It's the proven technology BMC has been delivering for years driving the innovation that delivers what DevOps teams' desire and CIO's require.
Automate your batch workflows with:
Control-M for Hadoop – automate and streamline Hadoop batch workflow creation, processing, and scheduling to get more value faster from your big data initiatives
Control-M Application Integrator – a workload automation design tool that lets you easily connect applications and processes so big data services are quickly and reliably delivered to customers
Control-M Automation API – enables developers and DevOps engineers to use Control-M in a self-service manner within their application release processes; designed for DevOps team leaders, engineers, and architects as they help their teams reliably develop, deploy, and manage application job services across complex infrastructures
Continuously right-size your infrastructure and deliver uninterrupted services with:
TrueSight Operations Management – collect and analyze Hadoop, infrastructure, and application-centric metrics for swift detection and resolution of IT infrastructure performance issues ensuring service level agreements and customer expectations are met
Drive visibility into your data and understand your critical services dependencies with:
BMC Helix Discovery – automatically identify and model your Hadoop infrastructure so you keep control over how it delivers business services
And this is just the beginning of what BMC will do for Big Data.
I can tell you that these solutions matter, but until you have your first hiccup when scaling, or you realize that your project ROI isn't where you want it to be because your overhead is running high, or worse yet, when someone calls to report that their report data isn't being updated, you may not believe me.  However, if you intend to successfully leverage big data to drive your critical business decisions, you will appreciate the value in what BMC has to deliver.
Automate big data workflows to simplify and accelerate your big data lifecycle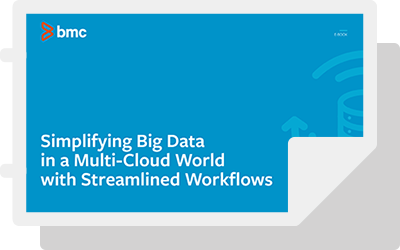 In this e-book, you'll learn how you can automate your entire big data lifecycle from end to end—and cloud to cloud—to deliver insights more quickly, easily, and reliably.
Read the e-book ›
These postings are my own and do not necessarily represent BMC's position, strategies, or opinion.
See an error or have a suggestion? Please let us know by emailing blogs@bmc.com.