Let's face it, many service desks and IT departments have so much on their plate, it's hard to keep up. With the quickening pace of change in cloud technology, SaaS, software, social networks, and evolving workplace habits, modern service desks are simply getting buried in data.

Even if you are facing all the challenges above, there's great hope on your service desk horizon. Businesses have come to rely on IT service departments for more core business functions than ever before. Which means ITSM has never been more essential to the success or failure of enterprises at large.
The challenge is modernizing to keep up with the pace of digital life as we know it.
We recently developed an e-book to help ITSM departments modernize their tools and processes titled Peer Into the Bright Future on the Service Desk Horizon. In this piece, we tapped leading ITSM thinkers to weigh in on everything from DevOps, automation, mobile frameworks, and mission-critical technology.
Downloading this e-book is the first step in fast tracking employee productivity through renewed ITSM strategies.
Gartner Magic Quadrant for ITSM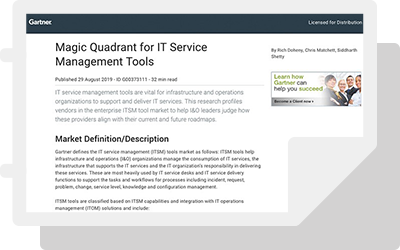 For the sixth year in a row, BMC is a recognized leader in IT Service Management Tools. Download the free report to see why!
Download Now ›
See an error or have a suggestion? Please let us know by emailing blogs@bmc.com.