Avoid the big tax payment due.
It's tax season, and we're all trying to optimize to ensure we don't get hit with a big bill at the end of another year. If you're like me, I try to aim for the big zero—meaning I don't owe a large sum in April, but I also don't receive a huge refund (which means I'm an interest-free lender to the government). Optimizing to zero is a good thing with taxes.
For the mainframe, you want to similarly optimize. Growth is good, so you want to see mainframe capacity and budget grow over time. And with the impact of the digital explosion happening all around us, it's unavoidable that the mainframe will be impacted with higher costs. The key is to ensure you're not overpaying—just like with taxes.
What do I mean by overpaying? In today's mainframe world, higher transactions and volatility translate to unpredictable peaks in your environment. Managing these peaks can be critical to ensure you optimize to pay the lowest cost you can, without suffering from SLA damage. It's a tough balancing act, but mainframe teams are doing it today, with the help of BMC's expertise, support, and solutions. The key is to gain the transparency and insight into what drives your bill each month. Then, manage the peaks and look for ways to optimize the cost structure for your MLC software.
Learn more about optimizing that mainframe "tax" so that you can sleep well at night. Join our upcoming live webinar, "3 Secrets to Driving Your Mainframe Success in 2018." You'll be happy you did.
Forrester study reveals strategies for controlling mainframe costs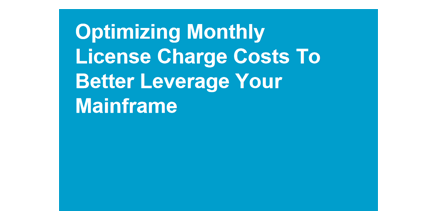 Read this Forrester paper to learn more about the key findings of this study and how to reduce MLC costs.
Download the Study ›
These postings are my own and do not necessarily represent BMC's position, strategies, or opinion.
See an error or have a suggestion? Please let us know by emailing blogs@bmc.com.